The Juiciest Things from the AHS Hotel Premiere Red Carpet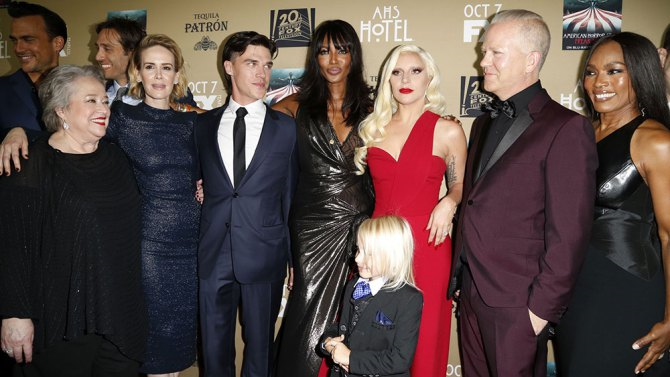 Lady Gaga is Very Hungry
Speaking with FX at the AHS: Hotel premiere red carpet, Lady Gaga was asked to sum up her character in three words: I'm Very Hungry.  Gaga's character drinks blood and from the sound of it, she likes to drink a lot of blood.  Someone who is probably also hungry in hotel is Max Greenfield, who had to lose a lot of weight for his role in the series.  "Diets are not for me," Greenfield told Young Hollywood.  We hear you on that Max!
"The Steam Takes on a Life of Its Own" – Finn Wittrock
Finn Wittrock has left his ways as Dandy in Season Four and picked up in Season Five as one of The Countess's lovers.   "I can't say it wasn't fun," he tells Pop Stop TV.  His character, Tristan, is in a love triangle with Gaga and Matt Bomer on the show.  Both characters are vying for The Countess's attention, but Finn thinks he has the advantage.  He describes Tristan as passionate and impulsive which is a huge turn on for The Countess Elizabeth.  Finn's character is naked both emotionally and physically – something most of the cast dealt with during filming.  "I definitely won't be watching that," Matt Bomer joked with Extra about his sex scenes with Gaga which he says get very intense.  Blood isn't the only thing The Countess is hungry for, she also craves sex.  Lady Gaga pushed the limits with her intimate scenes telling Access Hollywood, "It's an opportunity to be fearless."  Rumor has it the Countess hooks up with a lot of people including Angela Bassett's character…and don't count Kathy Bates out of the equation either!  "We're only halfway through the season so I don't know!" Kathy said about a Countess/Iris show hookup.
American Horror Story…in Space?
With every new season of American Horror Story, fans like us want to know more and of course even before season five premieres, we're already "hungry" for season six!  Evan Peters told Pop Sugar he's been pitching the idea of next season going into space.   He also loved the idea of next season being set on a cruise ship!  Of course all the decisions lie in the mind of the talented Ryan Murphy, who has stated he's coming up with ideas now.  And will Lady Gaga return?  He tweeted recently saying, "Lady Gaga is so brilliant in AHS Season 5 that yesterday I officially asked her to join Season 6.  Say yes @ladygaga!" – Gaga then retweeted this but didn't officially respond on Twitter.  She did tell Access Hollywood at the premiere that if possible "of course" she would love to do another season!
What do you AHS fans think of Season Six going to Space?!  How much blood do you think will be spilled in Season Five!  Sound off in your comments and tweet me @KristinCarole13!