The Flash Is Bigger When It's Smaller
Huh?  What the hell are you talking about, Steve?  I'm talking about the fact that The Flash really shines when the episodes are more personal and on a smaller scale.  The Flash's drama and characters become bigger than life when they're not dealing with save-the-world situations, or even save-the-city for that matter.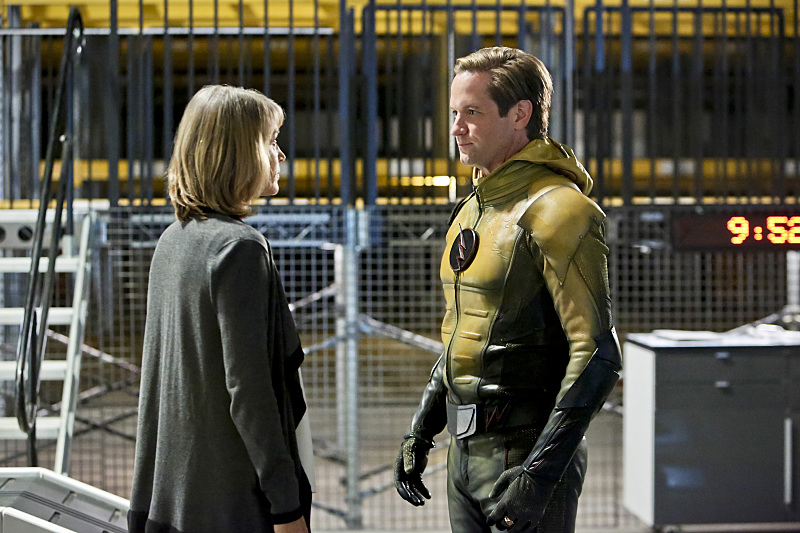 Tonight's episode, "The Reverse-Flash Returns", is a prime example of these "small" episodes.  We had multiple personal stories happening: Iris dealing with the impending death of a mother she never really knew; Caitlin trying to save Jay, who she's getting close to; Barry pushing Patty away just to keep her safe; and Cisco embracing his powers with the help of Harrison.  Not to say that this episode didn't have any action, but the large portion of this episode dealt with interpersonal relationships.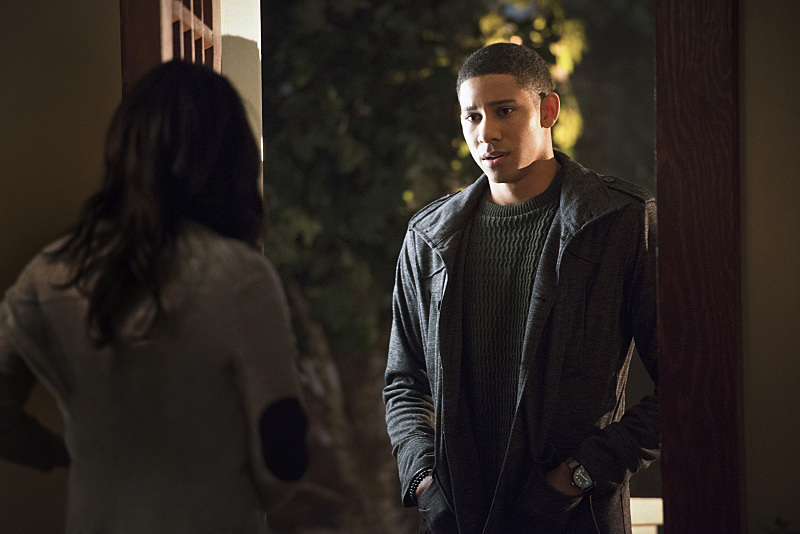 Iris finally forgives her mother, who's on her deathbed.  The emotions start pouring out, and she tearfully acknowledges them to her father, Joe.  She doesn't really know her own mother, but is still saddened.  This is one of those great moments in drama.  Look, I'm not a sappy guy, but these types of scenes define a character and how they relate to the world.  On top of that, you have Wally, who lectured to his father about being the man of the house, now angry at his own mother.  He goes as far as not wanting to see her in her final moments (that's cold man … real cold), which prompts a visit from big sis Iris.
Caitlin has been getting close to Jay ever since their first meeting.  I know there are fans who want to see this coupling (I'm looking at you #SnowJay fans), but I'm definitely not one of them.  I'm not averse to it, but I want it to be organic.  The episode did a great job with Caitlin knowing the urgency of Jay's condition, but also prioritizing what was the most important thing at the moment — saving Dr. McGee.  That's the logical-thinking Caitlin Frost we've all come to love.  In the end, her solution of using cells from a doppleganger are a bust, but she still shows resolve and is determined to save Jay.
I know most fans were probably screaming at their television screens tonight at Barry.  "Patty already knows!  Just admit to it!"  What most people don't understand is that Barry's handling of the situation plays right into his characterization.  Ever since the murder of his mother when he was a child, he had always wanted to control fate.  By not admitting to Patty that he is, in fact, The Flash, he's reassuring himself that she's safe as long as he doesn't say anything.  Even to the stubborn end, Barry doesn't tell her.  I actually found this to be a fitful ending to their relationship.  That gesture meant that he chose heroism over love — a large sacrifice that only someone like The Flash will and can do.
Even Cisco and Harry had their moment tonight.  I think the two becoming a dynamic duo would be stretching it, but they are starting to see eye-to-eye.  At least Harry knows Cisco well enough that he understands how his "vibing" works.  And can we all say what a hilarious moment that was when Cisco let out a high-pitched scream from seeing Harry in the Reverse-Flash suit?
Character interactions — that's what makes a great story.  And The Flash tonight was not short on any of them.  Action and thrills are always great, but you just can't have that all time.  Ever just have pure gravy without the steak?  Pretty unsatisfying huh?  "The Reverse-Flash Returns" was a nice medium-rare porterhouse that left us full, yet salivating to see where these character will be going next.
Make sure to visit Nick Tylwalk for his written recap of "The Reverse-Flash Returns" at Bam Smack Pow.
FOLLOW ME ON TWITTER:
@slamofsteel
FRIEND ME ON FACEBOOK:
Steve Lam (Slam of Steel)
Join Dylan Landon, Devon Stewart, Lauren Mayhew, and Jack Hind every week, live and on demand, for review and conversation about each new episode of The Flash. Tweet in questions or comments to the hosts all week using the hashtag #TheFlashAS
Don't forget to follow us on Twitter @theStreamtv and The Flash After Show hosts:
Dylan Landon – @DylanfromBklyn
Devon Stewart – @DevonDStewart
Lauren Mayhew – @LCMayhew
Jack Hind – @JackHind
theStream.tv Fan Show Network presents The Flash After Show. Tune in each week, live or on demand, for review and conversation about CW's The Flash! At the helm of the show are writers & producers Greg Berlanti, Andrew Kreisberg, and DC Comics CCO Geoff Johns who help bring this DC Superhero to life. The series is produced by CW and is a spinoff of their popular DC Superhero show, Arrow. The Flash, tells the story of Barry Allen after witnessing his mother's strange murder and his father's wrongful conviction for the crime. Allen becomes a brilliant but socially awkward crime scene investigator for the Central City Police Department. After being struck by lightning from a storm and doused with chemicals in his lab, he enters a nine-month coma, and when he wakes up he discovers he has the ability to move at superhuman speeds. Harrison Wells, the disgraced designer of the failed accelerator which caused the storm, describes Barry's special nature as "metahuman". Allen soon discovers that he is not the only one changed by the radiation, vowing to use his gifts to protect Central City from the escalating violence of metahuman criminals. In the series, The Flash will face metahumans from the DC universe including Weather Wizard, Multiplex, The Mist, Captain Cold, The General, Girder, and Blackout. Barry Allen is aided by a few close friends and associates who guard his secrets.
If you're a fan of the DC and the show then tune in each week for the live after show. #TheFlashAS
SUBSCRIBE TO theStream.tv
http://www.youtube.com/subscription_center?add_user=thestreamtv
LIKE US ON FACEBOOK
http://www.thestream.tv/facebook
FOLLOW US ON TWITTER
Tweets by thestreamtv
FOLLOW US ON INSTAGRAM
https://instagram.com/thestreamtv/