It's All About Circles and Lines
What's up, The Big Bang Theory fans!? As we race towards the season finale for the show, we see some more changes and character arcs for our gang. Our esteemed After Show hosts–Adam Kruger, Cherise Bangs, and Tia Robinson–with special guest Brian Thomas Smith (yep, good guy Zack from the show) expertly navigate us through this hilarious penultimate episode. So let's get started on our tour of "The Line Substitution Solution" …
Zack the Man Is in the House
Actor Brian Thomas Smith—a.k.a. Zack, a.k.a. Penny's ex-boyfriend, a.k.a. Penny's ex-husband (from Season 7)—paid a visit to the studio. A fan-favorite, Zack is the lovable, harmless stud who just wants to hang out with everybody. Unlike the other jocks Penny is accustomed to, Zack doesn't pick on Leonard, Sheldon, Howard, or Raj. In fact, he wants to be part of their friendship. Adam describes him as a "mix between a puppy and a bro." I would have to agree one-hundred percent!
In "The Justice League Recombination," it becomes apparent that the nerds have the upper hand, as they tease him for his perceived stupidity. Penny had to finally step in and scold the guys for making fun of Zack—they bullied him much like how they themselves were bullied. Now knowing what they did wrong, the gang apologized to Zack and welcomed him into their circle. Soon, Zack was spending more time with the guys than with Penny, much to her chagrin. And as the title suggested, the episode saw everyone dressing up as a Justice League member, with Zack, of course, donning the garb of the Man of Steel.
In last week's "The Bifurcation Fermentation," Zack returned and ran into the gang at a wine tasting. Brian tells us that Zack's style of holding the wine glass (much like how one holds a beer mug) was a creative choice by him—to show Zack's unpretentious, likeable side. The hilarity of adding Zack was that he, without knowing it, made Raj feel inadequate. Every innocent move Zack made seemed like a slight against poor Raj, who was trying to impress Claire.
Zack credits the writers for paying attention to the nuances of each character and also refining the jokes. They go as far as doing last minute changes during tapings—where jokes are taken out or with new ones being inserted.
Like Adam, Cherise, and Tia, I am all for Zack being a regular on the show. The Big Bang Theory is already hilarious as it is, but Brian really brings a new dimension. His Zack is the everyday layman conduit, and his common sense observances juxtaposed with the gang's overly complex scientific analyses are the cherry on top for the show.
A Circle of Trust
Speaking of circles—like the scene in Meet the Parents where Robert DeNiro explains trust to Ben Stiller—Leonard's mom, Beverly, paid them a visit. Fans of the show know that Leonard has a strange, awkward relationship with his mother. Penny, knowing how uncomfortable Beverly makes her husband feel, agrees to pick her up from the airport—hoping that she can use that time to bond with her.
Penny probably wished she didn't agree to it. I'm with Tia in that I thought it was going to be a typical girls' night out—seeing how Beverly previously got drunk at the Cheescake Factory and opened up to Penny. I guess that Beverly is gone now.
Seeking her girlfriends out for help, Penny attempted to become besties with Beverly. However, Beverly just laid in with jab after jab of insinuating insults. It was finally made clear that Beverly wasn't that much of a robot after all. She was hurt by the fact that she wasn't invited to her own son's wedding. Well, she wouldn't have gone anyways, but it was the principle of actually asking her to attend that mattered.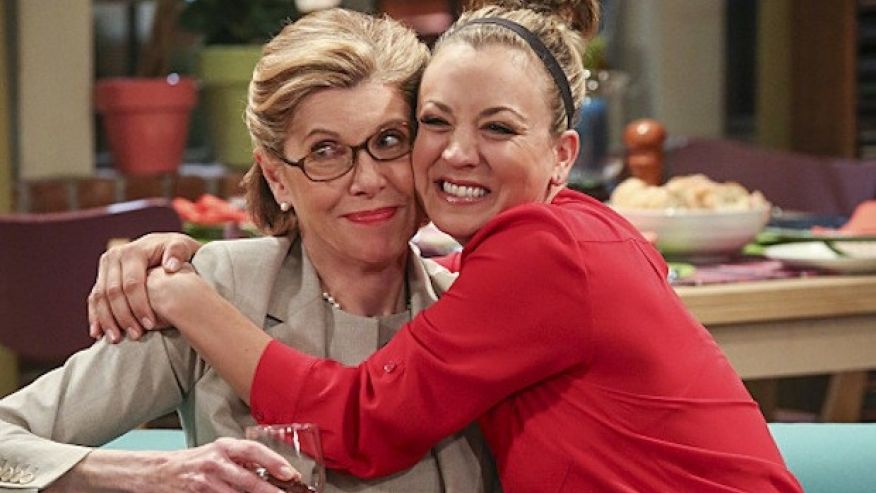 To make amends, Penny offers to hold another wedding ceremony so that Beverly can't witness it herself. Beverly happily accepted. With the two hugging, it symbolized Penny taking a victorious leap into Beverly's circle.
Since we're on the subject of weddings, Cherise brings up a great theory: could we be seeing a double wedding? Could Sheldon suddenly propose to Amy and do the walk down the aisle faster than he can solve a differential equation? We'll just have to see. Cherise's ideas hold a lot of credence because, as she pointed out, next week is the season finale which means anything is possible.
Sheldon Will Avenge Those Who Are in the Back of the Line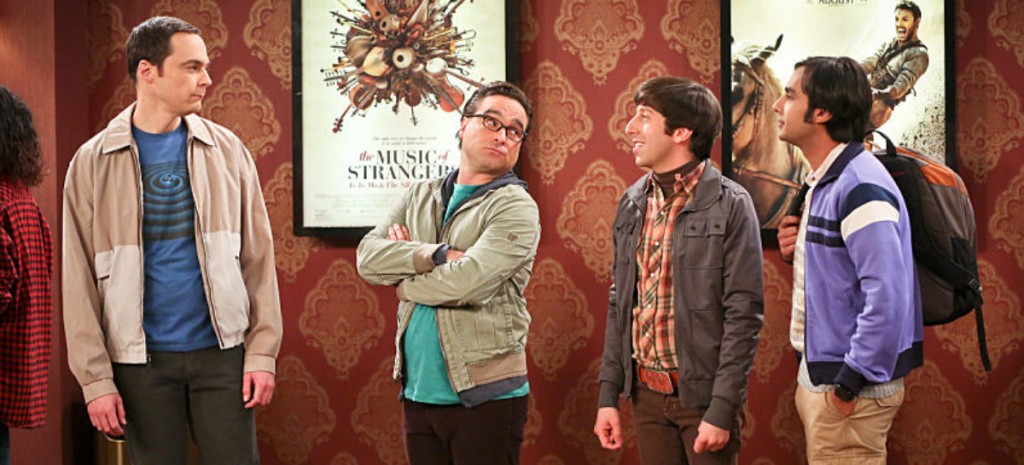 As Penny's drama with Beverly was transpiring, the guys were waiting in line for a Joss Whedon-hosted Avengers screening. Okay, I'm going to diverge for a little bit. On the night this aired, I myself was actually at a Captain America: Civil War marathon at my local theater. Starting from 7:00 a.m., the attendees watched every single movie that had a major Captain America appearance. The final movie was the premiere of Captain America: Civil War. Like I said before, sometimes The Big Bang Theory hits a little bit too close to home.
Back to our peeps in line, Sheldon has hired out Stuart to save his place, and Raj, getting a bit fatigued, whips out a stick-chair. Like what Adam has said before, Howard is a mega-putz. He's harmless, but he really lays it in when things are open for his remarks, as is the case with Raj's little contraption. I know Cherise was very fascinated and amused by it because she's never seen anything like it. I would like to point Cherise to Exhibit A: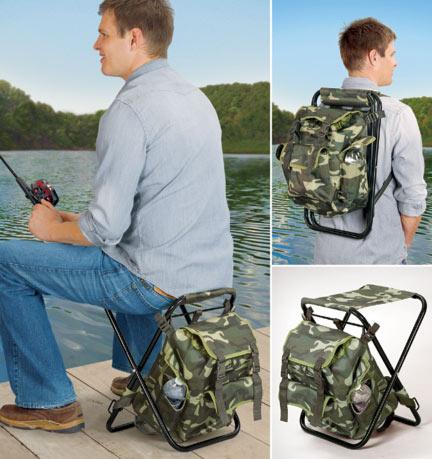 Yes, this may not be a stick-chair, but not only have I seen it, I have a friend that owns two of them. He uses it when waiting in long lines at car shows and conventions. In those situations, Adam would probably find it amusing that I become Howard—I really lay in the comments to my friend's choice of comfort.
As for Sheldon's stickler attitude towards rules, he hires out Stuart to wait in line for him. The ridiculousness of this task escalates when Sheldon also has Stuart talk to Amy. That situation only compounds it to the point of Amy paying Stuart to yell at Sheldon. I found the writing in this situation to be quite creative and amusing. Overall, another inventive way the writers are circumventing audience expectations.
And, of course, when there's a line, there's going to be Sheldon with his arbitrary rules. I think I'm very guilty of breaking Sheldon's rules of line engagement. I sometimes wonder how I'll react if I run into someone like Sheldon. On one hand, he does have a point. On the other, it's only one person. I'm sure all of you remember school lunch lines. There was the front-cut in which you sacrificed your own place for your friend. Then, some idiot invented the back-cut saying that his friend can cut in back of him which is basically cutting in front of you. Go figure. I guess we really do need some more Sheldons in this world.
This was another stellar episode from The Big Bang Theory. I'm really looking forward to the season finale … well, not looking forward to it ending for the season, but seeing how the writers will conclude the season with a bang (pun intended)!
Do you think Sheldon will propose to Amy during the season finale? Do you think the character of Zack should be a series regular? Adam, Cherise, Tia, and I want to here your thoughts, so sound off in the comments!
FOLLOW ME ON TWITTER:
@slamofsteel
FRIEND ME ON FACEBOOK:
Steve Lam (Slam of Steel)
Join Adam Kruger, Tia Robinson, and guest Cherise Bangs this week, live and on demand, for review and conversation about each new episode of The Big Bang Theory. Tweet in questions or comments to the hosts all week using the hashtag #BigBangAS
Each week our host will take a 'Nerd Word' from the show and will try to dissect it and use it in a sentence so be sure to check out the word of the week!
Follow us on Twitter @theStreamtv and our hosts:
Adam Kruger @TheAdamKruger
Cherise Bangs @CheriseBangs
Tia Robinson @TheTiaRobinson
theStream.tv Fan Show Network presents the The Big Bang Theory After Show. Tune in each week, live or on demand, for review and conversation of The Big Bang Theory. A woman who moves into an apartment across the hall from two brilliant but socially awkward physicists shows them how little they know about life outside of the laboratory. If you're a fan of The Big Bang Theory then tune in each week for the live after show.
SUBSCRIBE TO theStream.tv
http://www.youtube.com/subscription_c…
LIKE US ON FACEBOOK
http://www.thestream.tv/facebook
FOLLOW US ON TWITTER
Tweets by thestreamtv
FOLLOW US ON INSTAGRAM
https://instagram.com/thestreamtv/