Is Whitney Frost the Most Feminist Character on Agent Carter?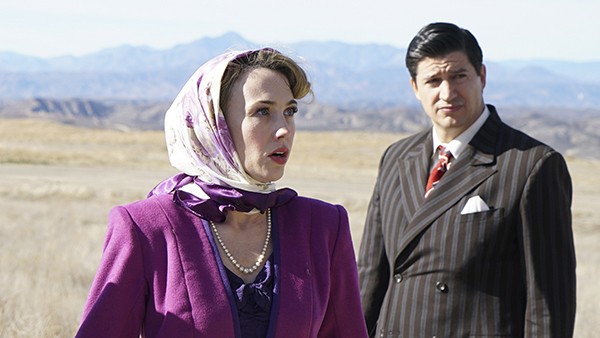 Before I start my little essay on why I think Whitney Frost is the most feminist character on the show, I'd like to first say that I understand that feminism is a very complex issue.  Experts and activists have various definitions for the term.  And socially and politically, many people will not agree on what is considered feminism.  However, we can say that consistently, the general concept of feminism is to support and advocate equal rights for women — women are equal to men.
Taking that very basic definition — again, I'm not trying to offend anyone — we can safely say that the character of Whitney Frost is the most feminist figure on Agent Carter.  How so?  Let's first examine some past characters who people consider to be feminist icons in media.  I've always loved using Linda Hamilton's Sarah Connor from the Terminator franchise, and Sigourney Weaver's Ellen Ripley from the Alien franchise as examples.  However, a recent film has introduced a character who seems to trump both of those characters in terms of feminism — Charlize Theron's Furiosa in Mad Max: Fury Road.
The reason her character comes across as being the pinnacle of feminism, to me, is because that character could've been written for a male actor.  Aside from the film passing the ever so famous Bechdel Test, Furiosa's goal has been abstracted away from her gender.  All her motivations and all other characters interacting with her also do not take into account her gender.  Take, for example, the famous scene of Max attempting to snipe the pursuing villains.  His first try is a failure.  Furiosa sees his failure and offers her services.  He does not question her abilities and willingly uses his shoulder as support for the rifle.  In the world of Mad Max, gender and ability have been completely divorced.
On Agent Carter, this concept of gender-ability separation has been realized with Whitney, but not Peggy.  The episode "Smoke & Mirrors" sees Peggy's and Whitney's lives juxtaposed against one another.  We're led to believe that both are feminist icons in their own right, with Peggy being the stronger one.  Why?  We are shown time and again that Peggy's dreams of adventure are supported by her male peers, yet Whitney's aspirations are ridiculed by peers of both genders.  But the characters, in their current situations, support the fact that Whitney is a stronger feminist figure.
The latest two episodes — "The Edge of Mystery" and "A Little Song and Dance" — were the clearest indicators that Whitney is equal, if not stronger, to her male counterparts.  Our After Show hosts — L. Stephanie Tait, Bryan Scheidler, and Brian Carroll — keenly pointed out that Whitney is the quintessential scientist — analytical and curious.  Brian also references past scenes where Whitney required materials for accessing more Zero Matter.  There was no double-cross with her.  Whitney was purely motivated by her goal and nothing could stand in her way.
Whitney certainly didn't start out this way.  It was stated and seen many times that Whitney, due to her ruse of hiding her talents behind the facade of being a superficial actress, was treated in a condescending fashion by the other male characters.  In more recent episodes, these other characters have started to view her as just a conduit of power (especially Manfredi) — something to be respected and feared.  To me, the character of Whitney Frost could've been written for either a female or a male.
Peggy, on the other hand, is still being questioned about her abilities.  She's still trying to "fight" against a male dominated society that sees her as having lesser abilities.  Because of this slowness in Peggy's arc, both in terms of the character and those around her, Peggy's stance as a "strong female" seems to have been overshadowed by Whitney's.  Is this a bad thing?  If the writers intended it to be this way, then no.  That is why, to me, Whitney is the one who holds the feminism flag on the show.
Make sure to visit Christina Roberts for her written recaps of "The Edge of Mystery" and "A Little Song and Dance" at Bam Smack Pow.
FOLLOW ME ON TWITTER:
@slamofsteel
FRIEND ME ON FACEBOOK:
Steve Lam (Slam of Steel)
Join Bryan Scheidler, L. Stephanie Tait and Steve Tenney every week, live and on demand, for review and conversation about each new episode of Agent Carter. Tweet in questions or comments to the hosts all week using the hashtag #AgentCarterAS
Don't forget to follow @thestreamtv and the after show hosts on Twitter!
Bryan Scheidler – @GoodNerdBadNerd
L. Stephanie Tait – @QueendomofMab
Steve Tenney – @TenStephens
theStream.tv Fan Show Network presents Marvel's Agent Carter After Show! Tune in each week, live and on demand, for review and conversation about ABC reality television show. Marvel's Agent Carter, or simply Agent Carter, is an upcoming American television series created for ABC by Christopher Markus and Stephen McFeely, inspired by the films Captain America: The First Avenger and Captain America: The Winter Soldier, and the Marvel One-Shot short film of the same name. It is set in the Marvel Cinematic Universe (MCU), sharing continuity with the films of the franchise.
The series features the Marvel Comics character Peggy Carter, with Hayley Atwell reprising her role from the film series, as she must balance doing administrative work and going on secret missions for Howard Stark while trying to navigate life as a single woman in 1940s America. Several characters from Marvel Cinematic Universe films appear throughout the series. It is produced by ABC Studios and Marvel Television, with Tara Butters, Michele Fazekas, and Chris Dingess serving as showrunners.
SUBSCRIBE TO theStream.tv
http://www.youtube.com/subscription_center?add_user=thestreamtv
LIKE US ON FACEBOOK
http://www.thestream.tv/facebook
FOLLOW US ON TWITTER
Tweets by thestreamtv
FOLLOW US ON INSTAGRAM
https://instagram.com/thestreamtv/