Inside Horror Explores Horror Art with Excision's Richard Bates Jr.
Hello all! Stacy Buchanan here with a recap on last night's episode of  Inside Horror. This week was a fascinating exploration into the world of art horror. Elric Kane and Staci Layne Wilson welcomed special guest Richard Bates Jr., director behind this years coming-of-age horror film, Excision.
Excision is dark comedy/art horror exploration into the lengths that a teenager will go to receive approval, and originated as a short that Bates Jr. made while attending NYU. He chatted about where the idea came from, how he'd wanted to turn it into a feature film from the very beginning, and why this labor of love took over 4 years, and lots of financial favors from friends, to make.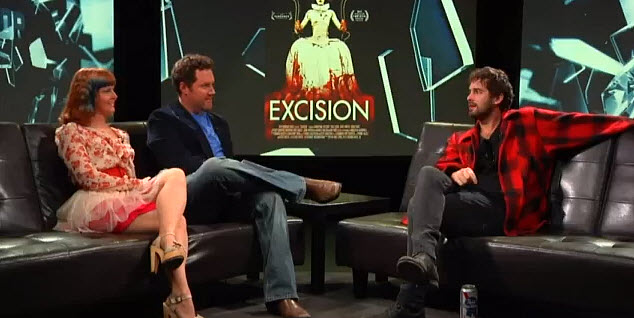 He also discussed the importance of casting against types, shared fun stories about promoting the film at Sundance, working with AnnaLynne McCord and Traci Lords, and why John Waters got involved with the film and how his film crew lost him at the airport – absolutely hilarious!
And in honor of last night's theme, Inside Horror shared their favorite art horror films. Elric loves Eyes Without a Face, a gory and stunning masterpiece that beared a huge influence on Tim Burton's Edward Scissorhands. Staci likes Dracula: Page from a Virgin's Diary, a black and white ballet rendition of the classic Bram Stoker novel, DRACULA. And Rebekah adores Hausu, an absolutely gorgeous and colorful film about a house that eats people. This one turned out to be the audience favorite last night, too.
As for me, can we classify David Lynch's Lost Highway as horror? Because it's definitely a visually stunning and eerie piece of art combined with a creepy soundtrack, and I can't get enough of it.
'Like' Inside Horror on Facebook and tell us what your favorite horror art film is and why, and you could score yourself a blu-ray copy of Excision.
FANGORIA's Rebekah McKendry began the latest horror news celebrating Sinister's amazing opening weekend. The film grossed $18 million, taking 3rd place behind Taken 2 and Argo. Considering that Sinister's production budget was pocket change compared to the others, I'd say that's wicked good success!  And not to be outdone, Season 3 of AMC's The Walking Dead premiered on Sunday and broke all basic cable records with 25 million people tuning in, making it the highest watched telecast in history.
Rebekah also showed us a preview of FANGORIA's new show on The Nerdist, Blood and Guts. In the show, metal legend Scott Ian from Anthrax takes us behind the scenes to see how some of our favorite visual effects are made — this looks like a lot of fun! She also discussed the rabid and raving fan approval for the recently leaked trailer of the Evil Dead remake, which debuted at the New York Comic Con this weekend. I was lucky enough to catch this before it was removed, and it looks amazing.
Watch this week's episde at: http://www.youtube.com/thestreamtv, to see the full interview with Richard Bates Jr., get a complete rundown on the latest horror news, and catch my video blog segment about the horror film that made the most significant impact on my life.
And be sure to tune in next week when Inside Horror welcomes Project Greenlight winners Marcus Dunstan and Patrick Melton to discuss their upcoming horror feature The Collector.
Inside Horror airs Tuesdays at 7pm PT, 10pm ET. Visit thestream.tv/inside-horror for more information, and for additional perspectives follow the team on Twitter at @InsideHorror and Facebook at facebook.com/InsideHorror.
—
Stacy Buchanan is a Boston-based digital marketer, freelance writer and lifelong horror fan. After spending over 20 years studying special effects makeup and cinema, she's also a full-time film buff, and produces content for numerous websites. Follow her on Twitter at @StacyJJBuchanan.