Have We Seen The End Of Tristan?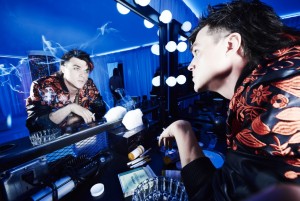 A few weeks ago, The Countess shocked fans by slitting the throat of Tristan, her lover who fell in love with Liz Taylor…BUT is that really the end of him?
Knowing American Horror Story, most characters who die, do not stay dead.  My initial thought was since he died in the hotel he would become a ghost like so many other residents who met their demise at the Cortez.  It's a little tricky though because he's a "vampire" and we haven't seen anyone of those die yet in the hotel.
Actor Finn Wittrock confirmed with Showbiz 411 that we haven't seen the last of the model, "I really don't know what to tell you because you're going to be really shocked. I can say that I have a cool transformation this year, which is something I've never done before."
I'm so excited to see what this all means!  It's hard to top anything that Dandy did last season.  I think the group is getting larger though that's ganging up against The Countess and Tristan will be a part of that take down I think.
What do you guys think?!  How will Tristan come back?  Sound off below and tweet me @kristincarole13 with the hashtag #AHSAS !  And don't forget to check out our AHS Aftershow!  Last time we had on special guest Helena Mattsson!