Check In as a Hotel Guest This Halloween
Every season of American Horror Story brings about new and memorable characters.  One of my favorite things about the characters is that they all have amazing hair, makeup and wardrobe!  Which got me thinking about how fantastic it would be to dress up as a Hotel Guest or Resident for Halloween!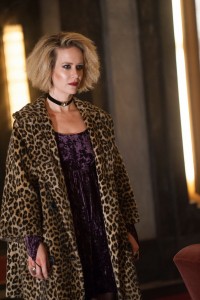 Sarah Paulson lost a head and gained a leopard print jacket this season!  As Sally, your costume would be stuck in 90's nostalgia.  Add a leopard print trench coat to a velvet dress and matching black choker. To complete the look, crimp your half dyed blonde hair and make sure to have it look extra frazzled, she is a drug addict after all.  If you really want to add the horror, grab someone to as her buddy The Addiction Demon (or not!).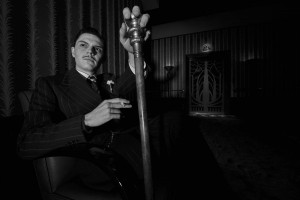 Although we have yet to meet Mr. James March, I dare say this is the most debonair Evan Peters has looked in American Horror Story.  And yet there's something sinister behind that skinny mustache.  To nab this look, grab the hair gel and top notch pinstriped suit.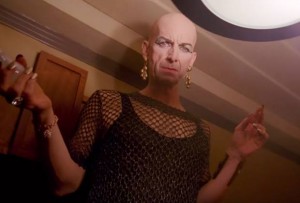 But we all know who put the fab in fabulous with looks this season…no it's not Gaga, it's AHS Alum Denis O'Hare!  The moment he walked down the hallway with Detective Lowe with his silk bathrobe flowing majestically, he won the fashion game.  Denis O'hare studied Drag Queens extensively for this role and he pulls off Liz Taylor with flying colors!  For this look, cake on the makeup, drape yourself in fishnets and up your jewelry game.  Don't want shave your head?  Grab a nude swim cap/wig cap to complete the look.
And you could go solo as the Countess, but what fun is that?  Grab some friends to dress as the creepy children.  For Gaga, wear a vintage 1920's style dress, make some sexy cat eyes and bleach your hair.  For her minions, suit up in a black and white shorts suit.  Add a puffy blonde wig and stare at people and run away.  Of course, the look isn't complete without a little blood.
Which AHS: Hotel look is your favorite?  Who would you love dress up as?  Comment or tweet me @kristincarole13
Photos Courtesy of American Horror Story Facebook Group, AHS Facebook Group and WN.com.