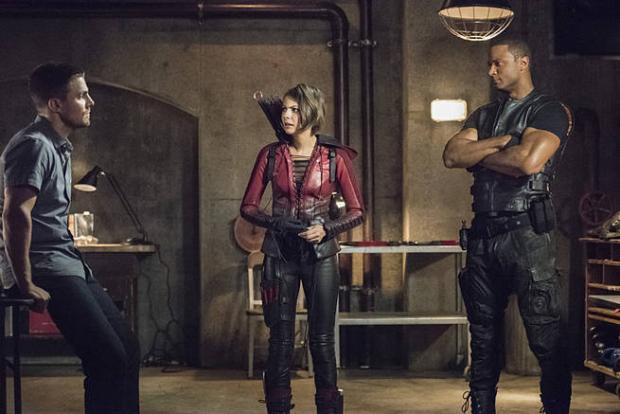 The season 4 premiere of Arrow delivered and then some! We saw Oliver and Felicity get pulled back into the mix to help Diggle and the others defend Star City agains Damien Darhk and his "Ghosts" and the city is in absolute chaos.
The writers have really layed the groundwork for an excellent season to come.
Issues with Speedy/Thea that stem from her resurrection in the Lazarus pit, and Captain Lantz and Diggle keeping secrets are only two sources of potential turmoil for our newly minted Green Arrow. We haven't even touched on the supernatural powers of this season's big bad – Damien Darhk. Withing the first few moments facing Darhk, Oliver almost lost his life. If not for Diggle, it would have been game over. The pieces are on the board and it's going to be a thrilling ride, if you ask me!
We were also given the ominous foreshadowing that one of our beloved characters will be taking an eternal dirt nap only six months into the future.
How will Green Arrow stop a man who can literally stop his arrows with a thought, and then siphon off anybody's life force with a mere touch? Can Speedy get it together? Will Diggle's secrets get team Arrow into trouble? Who will end up 6 feet under?
Tune in Wednesday to see the how everything starts to unfold, and then join us after as we discuss everything live! Tweet at us all week using #ArrowAfterShow.
See you there!