Twin Twist Exposed! ***Spoiler Alert***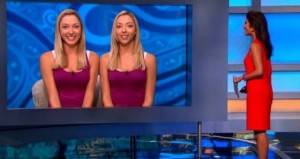 Thursday night's episode was fun as we watched the house go wild after Da'Vonne exposed the twins. She has been doing her detective work and I thought for sure the work was going to pay off for this lil Miss Nancy Drew. Unfortunately, that was not the case. Even after trying to scare Liz by confronting her about the twin's kept secret, Liz acted calm and still voted Da'Vonne out.
Meanwhile on the live feeds, Jason guessed correctly that Julia might be brought in after 5 weeks. Jason also says they have to get Liz out by the 4th eviction to make sure they do it on time, however the house doesn't know about the 5th eviction requirement.
What I'm about to tell you was a big shocker for me. Julia confided the whole set up with Liz to Vanessa. And of course, Vanessa told Shelli and Clay. They want to keep Liz/ Julia so they have the numbers later and bring Austin in on their new alliance. They also want Becky too. Now my question is, if Julia confined in Vanessa and she knows that the twin twist is real and not just figment of the big brother house's imagination and paranoia  is the twin twist still a twist? How will this all go down now? I'm surprised that the twins were aloud to reveal their identity to houseguests.
All I know is that I am loving this season thus far and cannot wait to see how the twin twist plays out!