What Is Up With The Countess In This Spoiler Pic?!
Ok, I need to talk to someone about these pictures!  It's time for an American Horror Story rant.  Please DO NOT read or look below on if you do not want potential spoilers.
Here it is…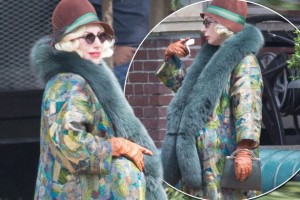 (Photo Courtesy of The Mirror)
What is going on with her stomach?!  Yes, AHS Fans, it looks like The Countess is pregnant!  Can this be true?!  So many questions and exclamation points!!!
It's also been confirmed that her character is visiting the Murder House, which has been known to perform abortions in the basement in the past.  Could the Countess be getting an abortion?  I'm wondering if maybe she got one and that's why she has this obsession with the creepy little baby vamps she makes.  Was she forced to get an abortion and always regretted it?
And who is the baby daddy?!  Obviously it's in the past so it's not Donovan's or Tristan's.  Some have speculated that she is James March's wife.  Could this be the offspring of a serial killer and vampire?  I would have to imagine this happened before she became The Countess and when she was just Elizabeth, an ordinary human.  Was this the baby of the one huge heartbreak that she hinted at when she broke up with Donovan?  Only time will tell but inquiring minds want to know now!
What do you guy think?  What are your baby daddy theories?  Tweet me @kristincarole13 !  I need someone to help me process this!