The Team Ignite Their Arrows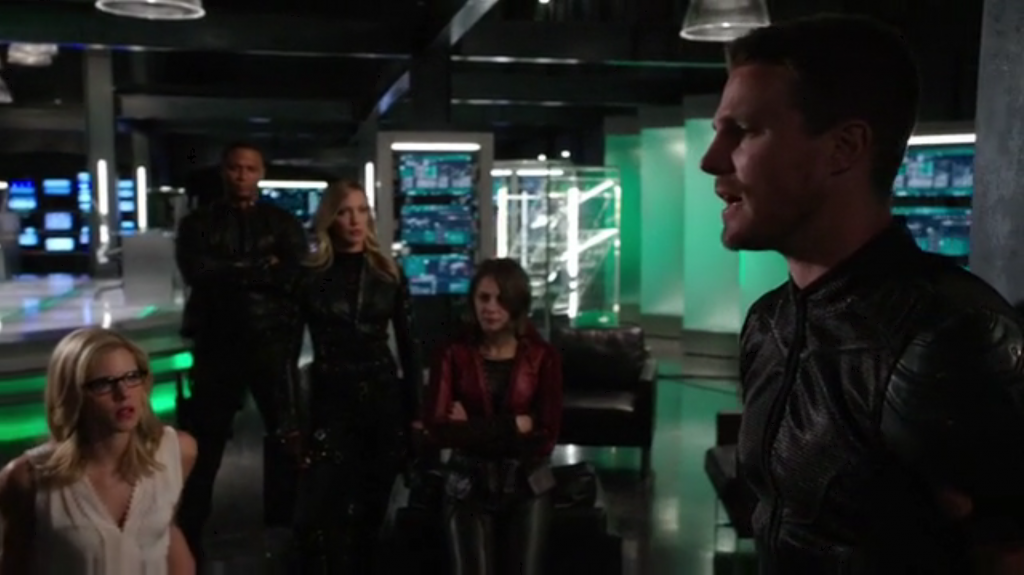 And when I say "team", I mean the After Show team.  It seems that the Arrow-verse, overall, has caused quite a stir among our hosts this week.  Last night, for The Flash After Show, the team had some heated, but friendly, debates on various scenes.  Tonight, our Arrow After Show hosts — Adam, Jack, Carolina, and Olivia — were just as unforgiving as they drew their bows ready to fire some flaming verbal arrows.  So let's dig into "Code of Silence" or what Adam called "Lies, Lies, Lies" …
Quentin's (Un)necessary Silence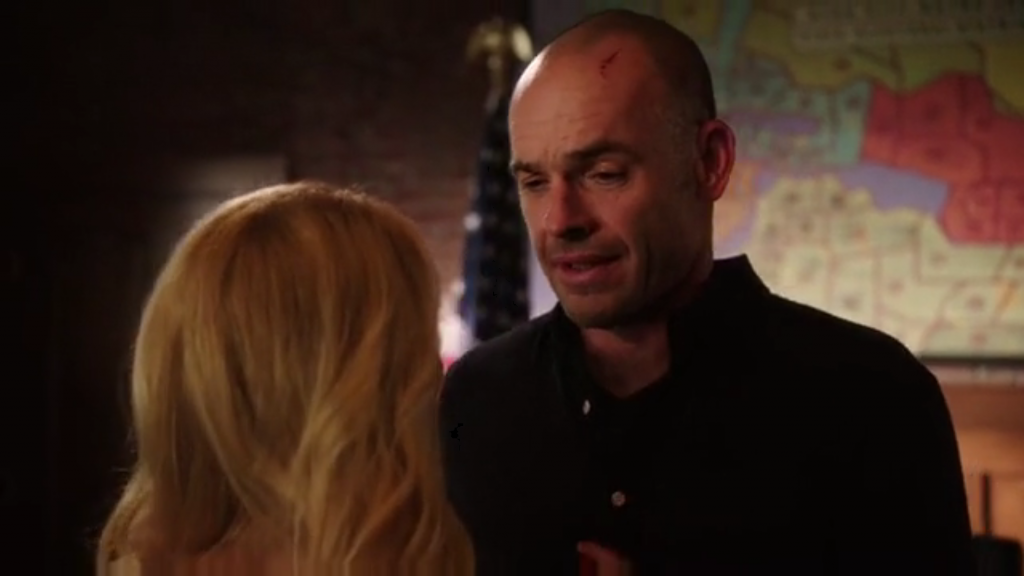 The topic that started it all tonight.  Should Quentin have lied to Donna?  Well, the team was split right down the middle over this.  Olivia and Carolina give a vehement "no."  And Jack and Adam give it a justified "yes."  Olivia and Carolina do bring up a good point.  Donna will not be anymore safer by not knowing about Quentin's activities with Team Arrow.  Darhk already knows about Felicity and, therefore, has full knowledge of Donna.  It doesn't matter if Donna knew about Darhk or not.  In short, from the words of Carolina, "It was a pointless lie."  Sorry guys, I think I have to side with Carolina and Olivia on this one.  It frustrated me a lot when Quentin refused to tell Donna.  I'll take it one level higher.  I felt that the writers were injecting some unnecessary conflict to keep the scene and overall episode arc more interesting.
Is Ruvé Adams Darker Than Darhk?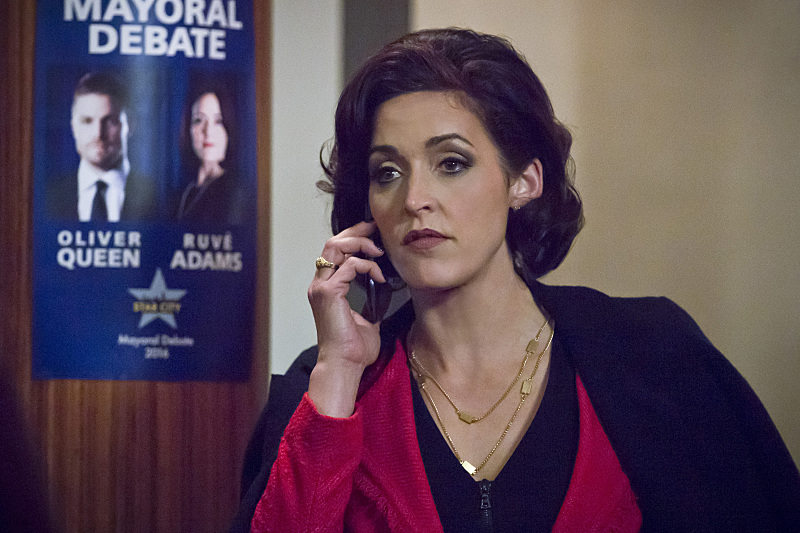 If Ruvé gave you the willies, you're not the only one.  Our After Show team were all in agreement that Ruvé is sort of creepy.  Even Damien was shown to be a little bit merciful after Team Arrow saved his family at his mansion.  However, Ruvé, playing up her ruthlessness, didn't like Damien going a little soft.  The After Show team has their suspicions that Ruvé will ascend to power later in the show.  I'm going to take this a bit further.  I think Ruvé is the one running the overall Darhk Freakshow.  Now, I know that I might anger some Damien Darhk fans by making Damien seem like a henchmen, but what if Ruvé is someone even more powerful in the DC universe?  Hey, Sweeps Week hasn't ended yet, and I wouldn't put it past the writers to give us a huge twist in order to keep the momentum going until the end of the season.
Some People Think Flashbacks Should Just Flash Away
Ah yes, flashbacks — the bane of some viewers … and writers.  The key to a great flashback is to make sure that when you come back from a flashback, the overall story perception is changed.  Don't use it just to give backstory.  Arrow has made flashbacks a very effective staple of the show.  I would say that Arrow's usage of flashbacks, in past seasons, should be used as examples in every screenwriting textbook.  However, many people are now growing tired of the show's flashbacks.
Carolina proposed her explanation for the audience's frustrations: perhaps the viewers aren't as emotionally invested in the flashback characters this season.  Carolina raises a very good point because last season, the big flashback event was the appearance of Constantine.  The appearance of the conman mage may have been a blessing and a curse.  It certainly raised ratings and viewer interest, but now the same viewers are getting tired of waiting for a payoff.
Jack and Adam believe that patience is a virtue and that the audience will be greatly rewarded if they let the season play out.  Jack and Adam go on to explain that the island of Lian Yu still has so much to offer.  We only know a fraction of its secrets, and more of those buried little tidbits will be revealed if we give it some time.  I would agree, as Oliver's mysterious tattoo — magically given by Constantine — still has yet to reveal what it really means or does.
A Lie Redefined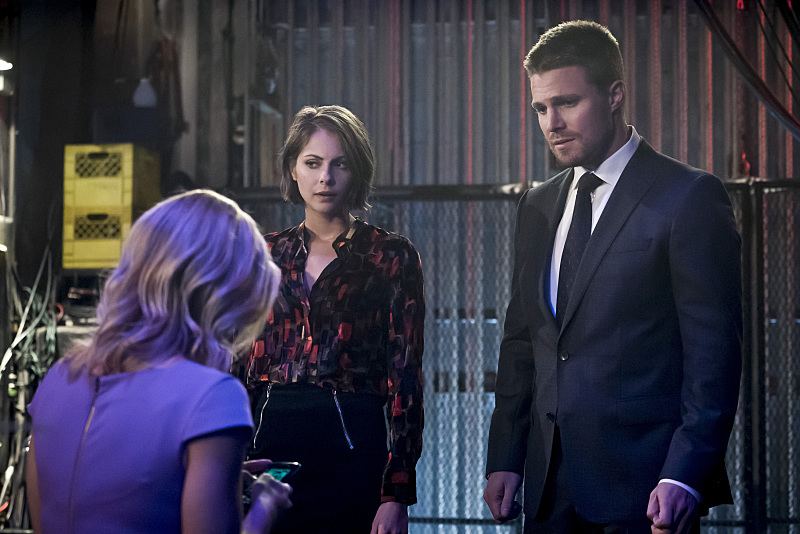 The After Show team's lines of demarcation were drawn again when this topic came up.  Should Oliver have lied to Felicity about William?  Olivia and Carolina think that Felicity should be trusted with the knowledge of William.  A secret like this is too big to keep from someone you'll be sharing a life with.  On top of that, Felicity is a trusted member of Team Arrow … for life!  There is no way she would ever betray Oliver.  If the situation arose, I think Felicity would probably die before putting Oliver or his son in danger.
Again Jack and Adam think that this is a justified lie — something that ensures the protection of William.  Adam does bring up a good point that if Oliver was married then his number one priority would be his partner.  This partnership's number one priority would then be the child.  Since Oliver isn't married, his son is his highest priority.  So him not telling Felicity is justified.
Now, this debate is only happening because Oliver lied to Felicity.  What if Oliver didn't lie?  That is exactly what Jack is proposing.  Is withholding information considered lying?  You bring a up a good point, Jack.  Let me take your "asking if I'm a girl" thought exercise a bit further.  Superman is known to be a pretty honest fellow.  Everyday, he withholds the information that he and Clark Kent are, in fact, the same person.  Does that make Superman a liar?  That's some food for thought.
Team Arrow Brought Their A-Game
Our After Show team finally met at their metaphorical Geneva and shook hands (or high-fived, as is tradition) in unanimous agreement on one thing: "Code of Silence" had probably the best choreographed fight scenes of the whole season.  On top of that, all the players were at their peak.  Thea was on-point.  Laurel did some major saving as her civilian self.  And the team, overall, functioned as a very strong, effective unit.  Well done, Team Arrow!
All of us at theStream.tv are excited to see what The CW's Arrow has in store for fans in the coming weeks as more of Darhk's plans are revealed.  Tell us your thoughts.  Adam, Jack, Carolina, Olivia, and I look forward to hearing from you.  So sound off in the comments!
Make sure to visit Nick Tylwalk for his written recap of "Code of Silence" at Bam Smack Pow.
FOLLOW ME ON TWITTER:
@slamofsteel
FRIEND ME ON FACEBOOK:
Steve Lam (Slam of Steel)
Join Adam Kruger, Jack Hind, Carolina Bonetti and Olivia De Bortoli every week, live and on demand, for review and conversation about each new episode of Arrow! Tweet in questions or comments to the hosts all week using the hashtag #ArrowAfterShow
Follow theStream.tv on Twitter @theStreamtv and our hosts:
Adam Kruger – @TheAdamKruger
Olivia De Bortoli – @oliviadebortoli
Jack Hind – @JackHind
Carolina Bonetti – @CarolinaBonetti
theStream.tv Fan Show Network Presents the Arrow After Show! Tune in each week, live or on demand, for review and conversation about the hit CW series, Arrow. Behind this hit series are writers & producers Greg Berlanti, Marc Guggenheim and Andrew Kreisberg. Arrow is based on the DC Comics character Green Arrow. The series follows billionaire playboy Oliver Queen, portrayed by Stephen Amell, who, after five years of being stranded on a hostile island, returns home to fight crime and corruption as a secret vigilante whose weapon of choice is a bow and arrow. During Season 2 of Arrow, CW introduced DC Comic Superhero Barry Allen on the show before launching its own stand-alone series, The Flash. Throughout the last few seasons, audiences have seen popular DC Comic super villains and superheroes come to life including: Deathstroke, Deadshot, China White, The Huntress, Black Canary, and Merlyn. Arrow and The Flash will feature multiple crossover episodes connecting the DC Television Universe on the CW. If you love everything DC Television Universe then you don't want to miss the after show live every Wednesday night!
SUBSCRIBE TO theStream.tv
http://www.youtube.com/subscription_c…
LIKE US ON FACEBOOK
http://www.thestream.tv/facebook
FOLLOW US ON TWITTER
Tweets by thestreamtv
FOLLOW US ON INSTAGRAM
https://instagram.com/thestreamtv/