The Secret Empire Makes Its Debut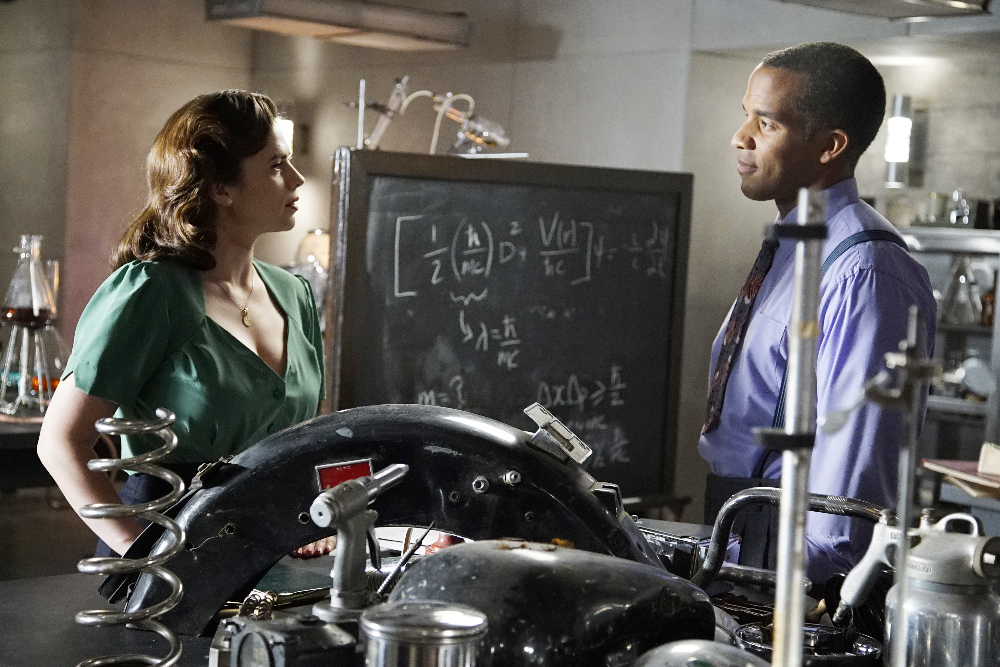 Those of you watching Agent Carter's third episode, "Better Angels", witnessed the introduction of another evil nefarious force in the Marvel Cinematic Universe.  Wait, Hydra's not enough?  When you're a top-notch agent who can list one of her past partners as Captain America, the answer is a big "nope."
Marvel's Agents of S.H.I.E.L.D. (which is currently on hiatus to make room for Agent Carter), this season, has taught us to look for clues in any form possible.  And I'll admit that I got extremely overzealous last night when I saw the pin for the Arena Club.  I did my best Fitz and started seeing how the club's insignia looked just like the silhouette of a space shuttle.  What else started out as an innocent space shuttle symbol, but ended up being a symbol for Hydra?  The patch worn by the expedition team who got trapped on the planet that Simmons was transported to and rescued from.  Fitz later figures out that the symbol was rooted in an ancient alien symbol and, through time, evolved into the modern day Hydra sigil.
But alas, my fired up excitement at figuring out some secret twist was extinguished by a simple revelation by Tara Butters and Michele Fazekas, the producers of Agent Carter.  In an Entertainment Weekly interview, Fazekas and Butters confirmed that the Arena Club is a secret meeting place for the Council of Nine —  the MCU's version of the Secret Empire.
ENTERTAINMENT WEEKLY: Is this council basically the Secret Empire?

TARA BUTTERS: Yes. [Laughs] They don't call themselves Secret Empire, but that is exactly what it is. It's the Arena Club.

MICHELE FAZEKAS: The Arena Club is like this social club. Also, the Secret Empire, there's been different versions of them in comics, it's run by the Council of Nine and sometimes the Council of 12. We call it the Council of Nine, so they call themselves the Council. They meet at the Arena Club, which is like this social club of white guys. They're just the guys who sort of run the world. They have orchestrated assassinations. We insinuate that they orchestrated the 1929 Stock Market crash.

Of course, Hugh Jones, from the first season, played by Ray Wise, is a member of the Council of Nine. Whitney Frost's husband is a member, played by Currie Graham. Whitney Frost is desperate to get more power for her husband, but he is between a rock and a hard place, because he has to do what the Council says, but he's got his wife like, "No, you have to do it this way." He's just trying to navigate between the two and it's not going well for him.
Alrighty then.  So what is the Secret Empire?  Making its first appearance in Tales to Astonish #81 (July 1988), the Secret Empire was created by Stan Lee and Jack Kirby.  In the comics, the organization was founded by a lone scientists who felt like he was overlooked by everyday society.  The Secret Empire started out as a subsidiary of Hydra, and it always had a leader named "Number One."  The goals of the organization changed with each new leadership.
At first, the Secret Empire acted as a distraction for the likes of S.H.I.E.L.D., so that Hydra's main operations could run without disruption.  Later, the organization sought to break away from Hydra and become independent.  Throughout the years, the Secret Empire was known to have orchestrated many conspiracies, and also infiltrated high-ranking offices.  In Captain America Vol. 1 #175 (July 1974), it was heavily implied that the President of the United States was actually the Number One at that time.  This was, of course, mirroring the events of then President Richard Nixon's resignation from the Watergate Scandal.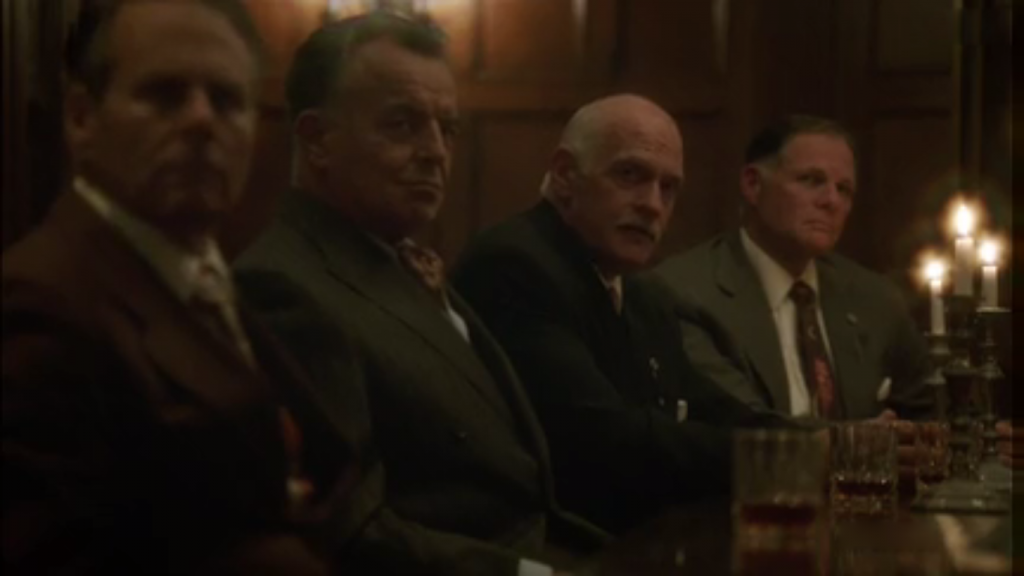 On Agent Carter, the Council of Nine was first seen in "A View in the Dark", where Hugh Jones, the head of the Roxxon Oil Corporation, and Tom told Calvin Chadwick, head of Isodyne Corporation, to focus on becoming senator — which mirrors the actions of the Secret Empire's comic book counterpart in instilling its members in positions of power.
Since Whitney Frost now has Zero Matter within her and access to Darkforce, it'll be interesting to see how her husband, Calvin, will use her newfound abilities to help the Council of Nine.  Could Frost later turn into Madame Masque and lead the Council of Nine?  What do you think?
Make sure to visit Christina Roberts for her written recap of "Better Angels" at Bam Smack Pow.
FOLLOW ME ON TWITTER:
@slamofsteel
FRIEND ME ON FACEBOOK:
Steve Lam (Slam of Steel)
Join Bryan Scheidler, L. Stephanie Tait and Steve Tenney every week, live and on demand, for review and conversation about each new episode of Agent Carter. Tweet in questions or comments to the hosts all week using the hashtag #AgentCarterAS
Don't forget to follow @thestreamtv and the after show hosts on Tiwtter!
Bryan Scheidler – @GoodNerdBadNerd
L. Stephanie Tait – @QueendomofMab
Steve Tenney – @TenStephens
theStream.tv Fan Show Network presents Marvel's Agent Carter After Show! Tune in each week, live and on demand, for review and conversation about ABC reality television show. Marvel's Agent Carter, or simply Agent Carter, is an upcoming American television series created for ABC by Christopher Markus and Stephen McFeely, inspired by the films Captain America: The First Avenger and Captain America: The Winter Soldier, and the Marvel One-Shot short film of the same name. It is set in the Marvel Cinematic Universe (MCU), sharing continuity with the films of the franchise.
The series features the Marvel Comics character Peggy Carter, with Hayley Atwell reprising her role from the film series, as she must balance doing administrative work and going on secret missions for Howard Stark while trying to navigate life as a single woman in 1940s America. Several characters from Marvel Cinematic Universe films appear throughout the series. It is produced by ABC Studios and Marvel Television, with Tara Butters, Michele Fazekas, and Chris Dingess serving as showrunners.
SUBSCRIBE TO theStream.tv
http://www.youtube.com/subscription_center?add_user=thestreamtv
LIKE US ON FACEBOOK
http://www.thestream.tv/facebook
FOLLOW US ON TWITTER
Tweets by thestreamtv
FOLLOW US ON INSTAGRAM
https://instagram.com/thestreamtv/