The End of the Dub Smash Wars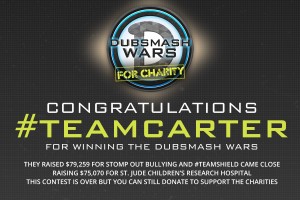 Unless you have been hiding under a rock somewhere, you probably heard that folks from Agents of SHIELD and Agent Carter were having a friendly little Dub Smash war. Wait you don't know what I'm talking about? Okay first listen to Haley Attwell, Clark Gregg, Chloe Bennet, and James D'Arcy explain it.
As you can see, what started out in good fun became a full blown battle, a battle that was raising money for charity. Each team selected a charity that they would be raising money for during the course of the DubWars, Team SHIELD was raising money for St. Jude's Children's Hospital and Team Carter was raising money for Stomp Out Bullying. It was a close battle and for the majority of the war Team SHIELD was in the lead. However in the final moments Team Carter came through with a major win. The final totals were $79,259 for Team Carter and $75,070 for Team SHIELD. While this is a tough loss for our favorite band of Agents, the real winners are the two charities. What started as a fun game between the two casts during the 2015 San Diego Comic Con turned into another great example of how comic fans can come together to make a difference.
Don't forget to check out the latest episode of the Agents of SHIELD After Show!