You know, sometimes the planets align perfectly.  And that's exactly what happened with "The Celebration Experimemtation" — the 200th episode of The Big Bang Theory.  There are many reasons behind the title of this article.  I'm not sure if the writers did this on purpose, but if you dig deep enough, everything about this episode is just perfect:
Sheldon is pretty much a genius, and in everyday speech, we usually just refer to people who are geniuses as having a 200 IQ.
Sheldon is also emotionally stunted which makes the 200 EQ (emotional quotient) a sarcastic label.
This is the 200th episode which references right back to the "200 IQ" label.
Being a Sheldon-centered, or Sheldonistic (later in the article, we will explain this new term coined by Mr. Kruger) episode, we never expected it to be that emotional.  Hence, the overall episode itself felt sarcastic in a meta sense.
Did I twist your brain enough?  In short, this was an awesome episode that had a lot of heart.  And it was delivered by one of the most unexpected characters.  So, with the accompaniment of our esteemed hosts — Adam, Cherise, and Brandee — let's get into all the good stuff …
It's Not the Clowns That Sheldon Has a Fear Of
When people recollect bad memories of birthdays, it's usually because of that stupid clown their parents hired.
Side-note: Whoever invented clowns really needs to rethink what the term "funny" means.  I'm serious.  Clowns are in no way funny or entertaining.  They're as funny as watching The Exoricist while eating split-pea soup.  Yes, I'm a grown man and I have a fear of clowns.  Every time I see them, I want to do a "Carolina Bonetti" karate chop to their noses.  Those who don't know what that martial arts move is should watch the Arrow After Show for "Taken."
Back to our discussion … Sheldon's fears are actually very simple: his trauma was rooted in simple bullying and disappointment.  Look, the characters of The Big Bang Theory like to rip into each other from time-to-time, but they always know where each other is coming from.  Sheldon's recollection of his sister and her friends making fun of him was really sad.  I mean it was a who-suddenly-cut-onions-in-front-of-me sad.  As Adam so keenly pointed out, "We're starting to see a valid reason behind these character idiosyncracies."  Cherise agrees and cites the big business of therapy as evidence.  And yes Adam, I fully agree with you that the writers have done a great job in making us "feel" for Sheldon.  In fact, I said those exact same words the second Sheldon recollected his story to the gang.
What's the Formula for Coitus?
I think that's exactly what Sheldon needed after Amy hinted to him what she was getting him for his birthday.  Adam, it saddens me to say that at my full-time job, Sheldon may not be the only straight man who doesn't understand what Amy meant.  You can take a guess at what type of industry I work in.  It starts with "I" and ends with "T."  Ah, but these guys can understand the intricacies of Wookie-speak.  As for Sheldon, there really was no other way of writing this scene.  Hey, you have to be consistent with the character.
"I'm Adam West!" … and … "I … am … Steph-en … Hawk-ing"
Everyone can agree that two highlights of this episode were Adam West — the 1960s Batman — and physicist Stephen Hawking.  Leonard's plan to invite Mr. West to Sheldon's birthday was a nice gesture.  Like Adam, Cherise, and Brandee, I thought Mr. West was going to show up in the Batsuit.  But no luck there.  He did, however, provide some extremely humorous quips with him asking if he was still going to get paid even though Sheldon had his freak-out.  And lets also not forget about his ranking of the Batmen of the past.  Off the topic a little, Brandee, I think you should give ole Ben a chance.  Have you seen the latest trailer?  The dude is Batman!  Anyways, I digress …
Dr. Hawking should have a second career in comedy.  During his first attempt at "singing" Happy Birthday to Sheldon, I completely lost it.  The best part was when the esteemed physicist couldn't keep up with the speed of everyone else who was belting out the celebratory tune.  Even after the song ended, Hawking still trailed with a final awkward "to you."  This man is a genius in not only science, but humor.  Well done, Stephen!
An Arc Isn't Just Something in Geometry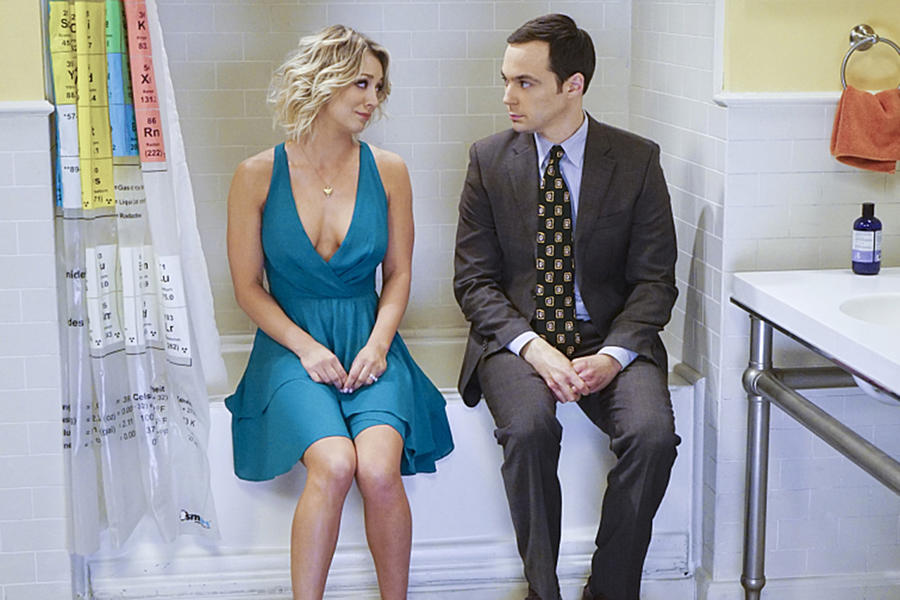 And can we say how many characters fully arced in this episode?  We've been with the gang for over eight years now.  They've been through thick and thin and a fair share of misadventures.  If you were to take this episode and compare it any one in the first season, you wouldn't even recognize the characters.  In reading some online articles, I know that this episode had its detractors.  Many reviewers thought it was a bit too saccharine.  I'll agree on that part.  However, it worked.  It worked like Sheldon's elegant proofs.  This episode still had it's stinging humor though … let's not forget about poor Stuart.
Penny's scene with Sheldon was another highlight of the episode.  She admitted that, back in the day, she would've fit right in with Sheldon's sister's friends.  But today was another story.  She loves Sheldon.  He's still weird though, but she loves him.  Adam actually coined a great term for someone who's "super socially awkward" — "Sheldonistic."  Let's all petition Websters and Oxford in getting this into the English lexicon with #Sheldonistic.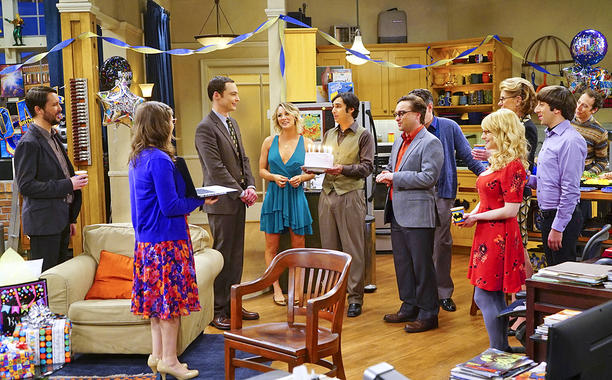 The scene with everyone's speech to Sheldon really hit it home in terms of emotions.  I think the writers just wanted to validate that even though everyone is "annoyed" with Sheldon, he's someone they've come to adore and really can't live without.  Adam, your assessment of Wil Wheaton's verbal parkour is right on the money.  The man is an actor, so it's not a surprise that he can lay it on thick at a moment's notice.
So what did you guys think of this 200th episode of The Big Bang Theory?  Adam, Cherise, Brandee, and I would love to hear from you.  Sound off in the comments!  The more Sheldonistic the comments are, the better!
FOLLOW ME ON TWITTER:
@slamofsteel
FRIEND ME ON FACEBOOK:
Steve Lam (Slam of Steel)
Join Adam Kruger, Tia Robinson, and guest Cherise Bangs this week, live and on demand, for review and conversation about each new episode of The Big Bang Theory. Tweet in questions or comments to the hosts all week using the hashtag #BigBangAS
Each week our host will take a 'Nerd Word' from the show and will try to dissect it and use it in a sentence so be sure to check out the word of the week!
Follow us on Twitter @theStreamtv and our hosts:
Adam Kruger @TheAdamKruger
Cherise Bangs @CheriseBangs
Tia Robinson @TheTiaRobinson
theStream.tv Fan Show Network presents the The Big Bang Theory After Show. Tune in each week, live or on demand, for review and conversation of The Big Bang Theory. A woman who moves into an apartment across the hall from two brilliant but socially awkward physicists shows them how little they know about life outside of the laboratory. If you're a fan of The Big Bang Theory then tune in each week for the live after show.
SUBSCRIBE TO theStream.tv
http://www.youtube.com/subscription_c…
LIKE US ON FACEBOOK
http://www.thestream.tv/facebook
FOLLOW US ON TWITTER
Tweets by thestreamtv
FOLLOW US ON INSTAGRAM
https://instagram.com/thestreamtv/