Inside Horror Celebrates Killer Sequels,The Collection and Silent Hill: Revelation 3D
Hi there! Stacy Buchanan here with an update from last night's episode of  Inside Horror.  It was a serial killer's and sequels party last night on the show, and Elric Kane and Staci Layne Wilson welcomed not one, but THREE special guests to celebrate.
Marcus Dunstan and Patrick Melton, winners of the 2005 Project Greenlight project, kicked off the show with a fascinating chat about their latest horror adventure, The Collection, the follow-up to their 2009 film, The Collector. Turns out these guys are evil geniuses with an absolutely flawless process behind creating the franchise's killer — one that involves spider webs, complacency and a fascinating story about a near-death german shepherd attack. Seriously, some of the most interesting people I have ever encountered, these two.
The duo have been working together in some form or another since college, and are also the writers behind Saw IV,  Saw V, Saw VI, Saw 3D.
Next, Elric and Staci welcomed Michael J. Bassett, the director behind one of this year's most anticipated horror releases, Silent Hill: Revelation 3D. Bassett discussed the fantasy horror sequel compared to its older brother, Silent Hill, as well as  the blatant differences involved with shooting 2D and 3D  — a conversation that really got me thinking differently about how I watch movies at home (I will likely be investing in a 3D TV soon).
Silent Hill: Revelation 3D releases nationwide on Friday, October 26th, and I am really looking forward to this one. And CONGRATS to the winners of our Silent Hill: Revelation 3D photo captioning contest last week! The winners will also be announced on Facebook today.
Inside Horror also shared their favorite serial killer films. FANGORIA's Rebekah McKendry chose Man Bites Dog, an obscure Belgium mockumentary about a film crew that gets involved with the goings-on of a serial killer. Staci likes Kaliforina, an adventure that focuses on the mental drive of a serial killer, with early performances by Brad Pitt and Juliette Lewis. And Elric's favorite is The Hitcher, a well-written film starring Rutger Hauer  that gives new meaning to the phrase 'finger foods'.
Fans gushed over MANIAC, which has a promising remake being released in 2013 and stars Elijah Wood. I personally love American Psycho, a film that I watch and quote regularly for good measure.
Rebekah congratulated Screamfest winners The Soska Twins for their highly anticipated American Mary, and recommended some new films during this week's horror news update. One that caught my attention was Wake in Fright, a Australian horror film that was made in 1971 and is just now getting a U.S. release thanks to the fine folks at the Alamo Drafthouse. She also offered reported on  a special screening of Mary Lambert's Pet Sematary and Dark Chronicles happening at the New Beverly Cinema in Los Angeles on Wednesday, October 24th, with actors Denise Crosby and Miko Hughes in attendance. Fans can get their advanced tickets here.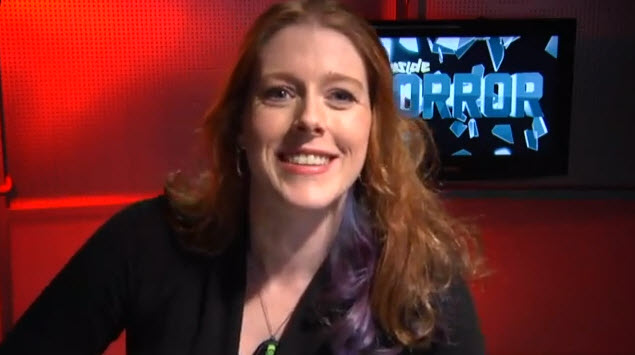 You can watch this week's episde at: http://www.youtube.com/thestreamtv to get the full update, and be sure to tune in next week when Inside Horror welcomes one of my all-time favorite directors, Tom Holland, the mastermind behind classics like Child's Play and Fright Night. Us die-hards also know and love him for his performance as Uncle Bob in Adam Green's Hatchet II.
Inside Horror airs Tuesdays at 7pm PT, 10pm ET. Visit thestream.tv/inside-horror for more information, and for additional perspectives follow the team on Twitter at @InsideHorror and Facebook at facebook.com/InsideHorror.
—
Stacy Buchanan is a Boston-based digital marketer, freelance writer and lifelong horror fan. After spending over 20 years studying special effects makeup and cinema, she's also a full-time film buff, and produces content for numerous websites. Follow her on Twitter at @StacyJJBuchanan.