Feral Sara & The Return of The O.G.s
Arrow Season 4, Episode 3 Review
The Resurrection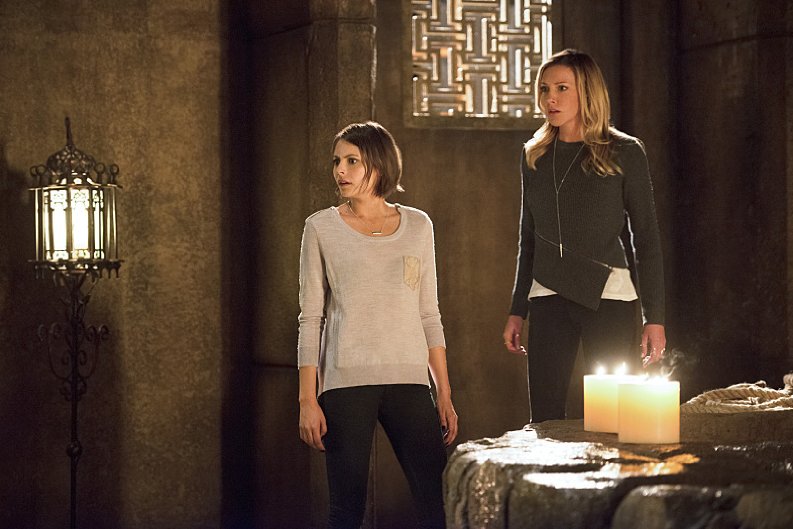 Wednesday's Episode of Arrow, titled "You Say Restoration, I Say Resurrection" was a doozy and centered around the resurrection of a favorite character, once lost.  We knew that it was only a matter of time before the CW would find a way to resurrect Sara Lance because of the upcoming series Legends of Tomorrow, however, the moment of seeing it happen, really was mind blowing!
The "spa day" road trip for Laurel and Thea to Nanda Parbat was far from relaxing for us fans and even more disturbing to Thea and Laurel.  They were on a mission with two ultimate tasks:
 Cure Thea of her need/thirst to kill
Bring Sara back from the dead
Malcolm Merlyn and Nyssa originally rejected the mission's intent, given the "unknown" side effects from using the Lazarus Pit, but eventually Merlyn, Thea's father, gave in, but only after explaining to Thea that the waters of the Pit compel the user to kill until he/she has slain the person that harmed him/her, which explained Thea's compulsion for blood, as of late.
What we don't know is the full extent of the Pit's power, nor do we know what affects it will emit on Sara. What we do know, is that Thea was only near death when she took her dip in the pool's healing waters; Sara was dead, and had been dead for a considerable amount of time! So, if Thea is blood thirsty and will continue to be, what will become of Sara?  Will she too, also feel the urge to kill? Will she want to avenge her death by killing the person, who killed her?  We know it was Thea…rewind back to Season 4, Episode 1 ending and that mysterious tombstone.  Will it be Thea's name on it and will Sara be the one responsible for putting her there?  Let's not forget that Nyssa al Ghul destroyed the Lazarus Pit in this episode, so all deaths moving forward will be permanent deaths!?
The OG's
Back in Star City, with Thea and Laurel being gone, it left Diggy, Ollie and Felicity the opportunity to get back to basics and ultimately, allowed for Felicity to forcefully encourage the "Bromance" to be reignited between Oliver and Diggle.
We watched as separately Oliver and Diggle struggled to take down two of the "Ghosts" working for Damien Dark.  We see that apart, they are not as powerful as they are unified and thus the two bad guys, using some unexplainable powers, "get away". When the two "friends" confront each other, neither of them is willing to forgive.  Enter Felicity and her suggestion of margaritas and a make up session!  Diggle isn't having it, so he goes home, only to find that his wife and baby are missing and in their place is an A.R.G.U.S. agent.  He tells Diggle that, despite breaking into his home, he's not there to hurt him, but to  give him information about the person that hired Deadshot to kill his brother.  Her name is Mina Fayad and she's in Star City!
Of course she is!  And of course she is connected in some way to Damien Darhk.  She meets with Darhk, to tell him she was sent by H.I.V.E., to help him with his vigilante "problem" and she just happens to be with her associate, Double Down, who uses dark matter-infused playing card tattoos to throw a lethal deck at his enemies. Darhk tells him that he'll pay him big money to take out The Green Arrow. Double Down takes his offer and a fight ensues between The Green Arrow and himself, with damage done to both and Ollie leaving with a playing card stuck in his arm.  Meanwhile, Diggle almost gets himself killed while following Fayad around town in hopes of finding out why she ordered a hit on his brother.
Enter Felicity again!  She's had it with the two fighting and they are not leaving the"Arrow Cave" until they mend their friendship.  It worked!  In sharing their knowledge of H.I.V.E, Mina Fayad,  and together fighting off the villain, Double Down,  with Oliver taking a "bullet" for Diggy, or really a "dark mater" card, the bromance and trust was reignited.
Missed Call
The episode with all it's layers, threw in one last curve ball.  Felicity's phone, which was blowing up while she was with Curtis Holt.  Why? Who? What? Where?  Is it Ray, who may not in fact be dead, but perhaps somehow still alive and reaching out to Felicity?  The Atom isn't dead!?
One episode.  Two possible resurrections in Sara and Ray.  One restoration of friendship in Diggle and Oliver.  Told you it was a doozy!!
Preview Season 4, Episode 4, Beyond Redemption, here and make sure to watch our Arrow Aftershow posted here and on The Stream.tv, for our theories and thoughts from this episode!