Comic Books, Superheroes, and Women….Oh Stuart!
Once again, this week's episode separated the guys and the gals for most of the show. But, instead of the ladies hanging out in Penny's apartment, they have been invited to Stuart's comic book store to help him figure out how to lure more women there. As they dissect the situation, they come to the conclusion that Stuart is the problem. Actually, his inability to socialize with women is the problem.  Penny goes through the online reviews about the store and reveals that many of the women reviewers find "the creepy owner" to be the turn off. She then asks, "….don't be offended, but what happened to you?"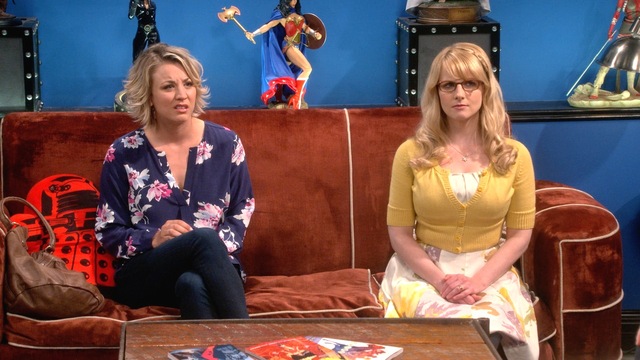 But what I think we need to remember is that Stuart's main relationship with a woman (Howard's mother) ended tragically and suddenly. Even though there was something sightly odd about their situation, it made them both happy and, when he lost that, I think it really affected him.  Stuart has gained a bit more confidence throughout his years with the gang but he still has no clue how to relate to women in a relaxed "normal" way.
I absolutely LOVE the actor (Kevin Sussman) who plays Stuart but, though I do like his character too, it might be nice if they pull back on his "creepiness" factor a tad.  I think once the whole gang gets back together (and he's not one on one with the ladies), that will tone down quite a bit.
Do you think Stuart will find a new love interest? I certainly hope so because I'd like to see is character evolve even more! Tune in next Monday for more laughs and then make sure to join us for our live Big Bang After Show following the east coast airing at 5:45pm EST/8:45pm PST! Tweet with us all week using #BigBangAS and see if you get a show out during our show!