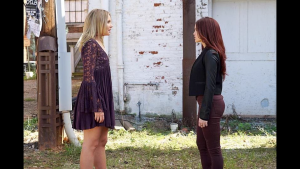 (Credit to @the0riginals for this awesome shot!)
Hey Originals Fans!
After this last episode, The Originals left us wondering who really has all the power right now?! Episode 6 had many things going on, including the return of my FAVORITE character, REBEKAH! …. even though she was also put to sleep temporarily. I don't know about you, but I was going crazy over her character journey this episode. First of all she comes back in her witch body and is killed within the first few minutes, returns to her vampire body and survives most of the episode (thanks to awesome sister Freya), and is daggered by Aya and her witch friend who betrayed Rebekah at the end. Now Rebekah's body is lying daggered in a coffin under the protection of Aurora's sire line vampires.
As of now Aurora, Klaus, and Aurora's minions are the only ones (that we know of) who are aware that Aurora has taken Rebekah's body to a secret and secure location against Tristan and Lucien's original plan with Aurora. Since Aurora has Rebekah's body she has something over Klaus and the other Original siblings. So does this mean that Aurora holds the power? She told Klaus to come back to bed with her after he had said no, but which he eventually did upon hearing that Aurora had Rebekah….blackmail or what?!
At least Aurora isn't working with Tristan and Lucien to dagger The Originals and keep them asleep forever… at lest that's what she says now. So can Aurora really be trusted? Or is she just using Rebekah's body as a means to have control over The Original family?
And what about CAMI?! Does Aurora truly have Klaus' heart? Is Detective Finney a better fit for Camille than Klaus, since he is human? Or has Lucien destroyed Finney's mind forever by compelling him to think that he's worthless? This episode left us with so many exciting questions as always. Can't wait until next week!
Here's last weeks recap of what we thought of episode 6:
Join the chat on this week's after show YouTube video and let us know what you think is going to happen! #CanAuroraBeTrusted?
Follow and Tweet us @TheOriginals_AS  and maybe your comments will make it onto next week's after show!  🙂