Blackwing Was Just Introduced to Us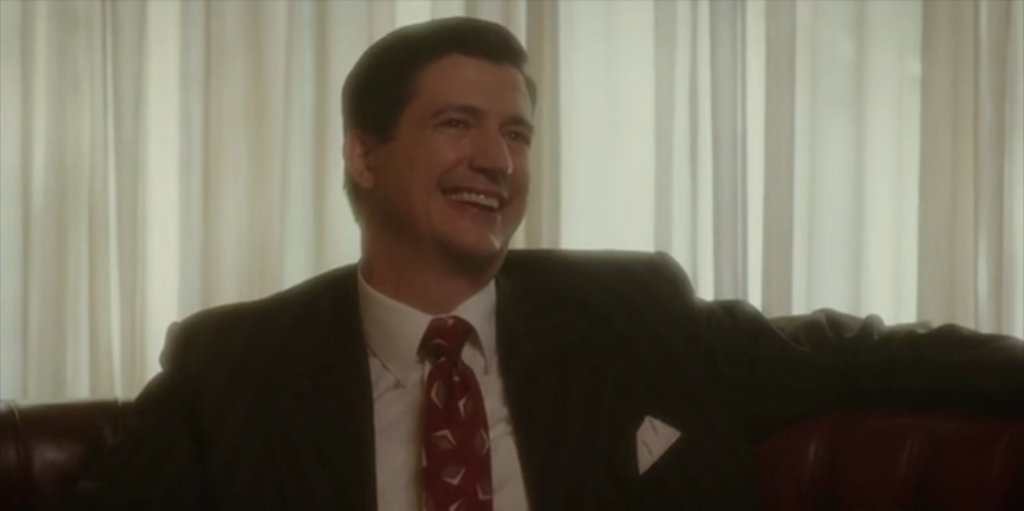 "The Atomic Job" — the fifth episode of Season 2 of Agent Carter saw the Zero Matter-enhanced Whitney Frost attempting to procure plutonium rods in a bid to reproduce the atomic blast that brought Zero Matter to our world in the first place.  Along the way, we see Ms. Frost deal with some unsurly individuals.  One of them was the mob leader of the Los Angeles branch of the Maggia crime syndicate — Joseph Manfredi, played by Ken Marino.  Fans well-versed in Marvel lore now knew that another villain was entering the Marvel Cinematic Universe with the introduction of Manfredi.  For those who are just casual fans, Joseph Manfredi is the son of crime lord Silvermane, and will later become the super-villain Blackwing.
In the Marvel universe, Blackwing is the name of three characters.  Two of them are super-villains, and one is a hero.  For the sake of brevity and focus, we'll only be discussing about the super-villain whose alter ego is Joseph Manfredi.  Created by Gerry Conway and Don Heck, the character of Joseph Manfredi made his first appearance in Daredevil #118 (February 1975).  Manfredi is the son of crime lord Silvermane and he was born in Orlando, Florida.  In his earliest stories, the character was an animal trainer for the Ringmaster's Circus of Crime — an organization that originally had its roots as spies for the Nazis during World War II — and battled Daredevil, Black Widow, Nick Fury, and S.H.I.E.L.D.
Blackwing later partnered with Jack O'Lantern — the Steven Mark Levins version — and fought Captain America.  Catching the attention of the Red Skull, Blackwing and Jack O'Lantern were recruited by Mother Night — the Sisters of Sin headmistress who battled Captain America and the Winter Soldier — to join the Skeleton Crew.  Blackwing and the Skeleton Crew were later defeated in battle by Captain America, Diamondback, and Falcon.
The second Crimson Cowl later recruited Blackwing to join her Masters of Evil team.  After being defeated again, Manfredi gave up his Blackwing identity and became a crime lord, creating his own villainous team named Heavy Mettle.
Blackwing is an expert bat trainer and an expert marksman.  He's also bred various mutated bats which are abnormally strong, highly intelligent, and large.  His costume is composed of a synthetic, flexible, stretch fabric that covers a chain mail body armor, and has various devices which give him the ability to fly over short distances.
It seems that Agent Carter is introducing Manfredi to the audience as a mob boss first.  Could his days as Blackwing already passed?  Or could we be seeing a guy with an affinity for bats and wearing black — who's not in the DC universe — show up soon on the show?
Make sure to visit Christina Roberts for her written recap of "The Atomic Job" at Bam Smack Pow.
FOLLOW ME ON TWITTER:
@slamofsteel
FRIEND ME ON FACEBOOK:
Steve Lam (Slam of Steel)
Join Bryan Scheidler, L. Stephanie Tait and Steve Tenney every week, live and on demand, for review and conversation about each new episode of Agent Carter. Tweet in questions or comments to the hosts all week using the hashtag #AgentCarterAS
Don't forget to follow @thestreamtv and the after show hosts on Twitter!
Bryan Scheidler – @GoodNerdBadNerd
L. Stephanie Tait – @QueendomofMab
Steve Tenney – @TenStephens
theStream.tv Fan Show Network presents Marvel's Agent Carter After Show! Tune in each week, live and on demand, for review and conversation about ABC reality television show. Marvel's Agent Carter, or simply Agent Carter, is an upcoming American television series created for ABC by Christopher Markus and Stephen McFeely, inspired by the films Captain America: The First Avenger and Captain America: The Winter Soldier, and the Marvel One-Shot short film of the same name. It is set in the Marvel Cinematic Universe (MCU), sharing continuity with the films of the franchise.
The series features the Marvel Comics character Peggy Carter, with Hayley Atwell reprising her role from the film series, as she must balance doing administrative work and going on secret missions for Howard Stark while trying to navigate life as a single woman in 1940s America. Several characters from Marvel Cinematic Universe films appear throughout the series. It is produced by ABC Studios and Marvel Television, with Tara Butters, Michele Fazekas, and Chris Dingess serving as showrunners.
SUBSCRIBE TO theStream.tv
http://www.youtube.com/subscription_center?add_user=thestreamtv
LIKE US ON FACEBOOK
http://www.thestream.tv/facebook
FOLLOW US ON TWITTER
Tweets by thestreamtv
FOLLOW US ON INSTAGRAM
https://instagram.com/thestreamtv/