Arrow Presents: The Worst Vacation Ever
Some crazy stuff was going down on this week's new episode of Arrow. When Oliver Queen getting magic lessons and John Diggle's wife Lyla rolling around in a heavily armored bunker on the back of a semi aren't even the biggest "WTH?" moments of the night, you know some serious stuff is going down.
The full scope of Damien Darhk's plan was revealed, and despite Felicity Smoak's hope that the name of HIVE's operation referred to Phil Collins' famous band, "Genesis" had a much more biblical connotation. He wants to nuke the whole world and start all over again, apparently, never mind that burning the planet is kind of the exact opposite of a flood.
What Team Arrow doesn't know yet is how Darhk and HIVE plan to ride out the nuclear holocaust. The only person who does know is Thea Queen, thanks to something we're calling The Worst Vacation Ever™.
"Pleasantville with nobody there"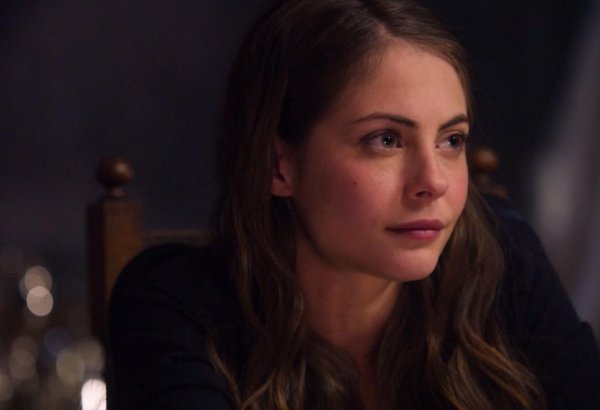 That's a quote from Arrow After Show host Adam Kruger to describe the bizarre situation Oliver's sister found herself in. So let's set the stage: With Oliver off on his "magical mystery tour," Thea asked for permission to go for a weekend getaway with her boyfriend, Alex Davis. Not the best time to hit a bed and breakfast in this writer's opinion, what with Darhk out of jail and finally making his big move, but hey.
Thea woke up in a pretty nice house and immediately got spooked because Alex wasn't around, but he was merely down in the kitchen making Eggs Benedict. Nothing sinister about that, right?
Except that Thea didn't remember getting to the impossibly perfect town, as Alex told her she conked out as soon as they left Star City. Nor did she know where she was. And the animal sounds seemed to be repeating, and the day never turned to night.
Host Jack Hind may not have ever seen Pleasantville, where Tobey Maguire and Reese Witherspoon visit a surreal town from a black and white 1950s TV show, but Thea's situation did remind him of another movie:
The fact that she caught the bloody dog barks and the chirps, the loop, I was like, "Yeah, that's smart." And then it reminded me of The Simpsons Movie when she ran into the dome at the end.
The hosts tossed around other pop culture references as well, including Under the Dome and Bio-Dome, which might be the only time Pauly Shore is ever mentioned on the Arrow After Show. But after getting the discussion back on track, Olivia De Bortoli had this observation on how Thea's training managed to shine through in determining that something was amiss:
I'm really impressed that she was able to put two and two together so quickly, and she was just sticking to her guns even though she thought that she was crazy.
That was impressive, but the problem was that Thea was able to be led into that predicament in the first place.
Sleeping with the Enemy
Thea hasn't had much luck with men on any season of Arrow. Current beau Alex Davis seemed like the most normal suitor she's had (not most awesome, because that would definitely be Roy Harper, a.k.a. Arsenal), though he's kind of stuck in the mother of all conflicts of interest seeing as he's the PR man for Star City mayor Ruvé Adams — who happens to be the wife of Damien Darhk.
It would be a bad look for Thea to have been duped again like she was by the annoying DJ-turned-assassin in Season 3, but the Arrow After Show crew doesn't think Alex was in on the plot to dupe Speedy. In fact the hosts were in agreement that Davis was simply under the influence of the "vitamins" that his boss gave him, the same yellow pills that Darhk has used to ensure his HIVE ghosts are loyal to him.
In the immortal words of The Who, Speedy won't get fooled again. And that's refreshing to see.
The problem now is how she'll get out. At the end of "Genesis," we saw Thea trying to flee only to run smack dab into the edge of the virtual dome. Her brother and teammates have no idea where she is, and it's been pretty well established that she can't get a cell phone signal or communicate in any way. And yet thanks to ComingSoon.net, we have this synopsis of the Arrow episode coming up on May 18, titled "Lost in the Flood":
Following the shocking events in the previous episode, Oliver (Stephen Amell) and Diggle (David Ramsey) race to rescue Thea (Willa Holland), while Felicity (Emily Bett Rickards), Curtis (Echo Kellum) and Noah (guest star Tom Amandes) join together to stop Darhk (guest star Neal McDonough).
That sounds as if Thea is going to be on her vacation from hell at least a few more episodes. And for that, we can only apologize.
For more on "Genesis," plus rampant use of air quotes and Adam and Olivia having what Jack calls "a moment," please be sure to watch this week's entire episode of the Arrow After Show. And to get in on next week's live discussion, be sure to tweet the hosts with the hashtag #ArrowAfterShow.
Join Adam Kruger, Jack Hind, Carolina Bonetti and Olivia De Bortoli every week, live and on demand, for review and conversation about each new episode of Arrow! Tweet in questions or comments to the hosts all week using the hashtag #ArrowAfterShow
Follow theStream.tv on Twitter @theStreamtv and our hosts:
Adam Kruger – @TheAdamKruger
Olivia De Bortoli – @oliviadebortoli
Jack Hind – @JackHind
Carolina Bonetti – @CarolinaBonetti
theStream.tv Fan Show Network Presents the Arrow After Show! Tune in each week, live or on demand, for review and conversation about the hit CW series, Arrow. Behind this hit series are writers & producers Greg Berlanti, Marc Guggenheim and Andrew Kreisberg. Arrow is based on the DC Comics character Green Arrow. The series follows billionaire playboy Oliver Queen, portrayed by Stephen Amell, who, after five years of being stranded on a hostile island, returns home to fight crime and corruption as a secret vigilante whose weapon of choice is a bow and arrow. During Season 2 of Arrow, CW introduced DC Comic Superhero Barry Allen on the show before launching its own stand-alone series, The Flash. Throughout the last few seasons, audiences have seen popular DC Comic super villains and superheroes come to life including: Deathstroke, Deadshot, China White, The Huntress, Black Canary, and Merlyn. Arrow and The Flash will feature multiple crossover episodes connecting the DC Television Universe on the CW. If you love everything DC Television Universe then you don't want to miss the after show live every Wednesday night!
SUBSCRIBE TO theStream.tv
http://www.youtube.com/subscription_c…
LIKE US ON FACEBOOK
http://www.thestream.tv/facebook
FOLLOW US ON TWITTER
Tweets by thestreamtv
FOLLOW US ON INSTAGRAM
https://instagram.com/thestreamtv/