Just about everyone who enters into the orbit of Oliver Queen on a regular basis on Arrow and lives ends up as a superhero. Ex-girlfriend Laurel Lance? She's Black Canary. Sister Thea? We know her better as Speedy now. Even John Diggle, who's probably the last person in the Arrowverse to want to be called a superhero (and is freaked out by metahuman powers, by his own admission), has his own costume and code name as Spartan.
So far, Curtis Holt has managed to dip his toes in the crime-fighting pool by assisting Team Arrow on its mission to save Ray Palmer from the clutches of Damien Darhk earlier in Season 4. In this week's episode, "Beacon of Hope," it was more like he waded into water up to his neck. All that's left is the cannonball off the diving board.
The hosts of the Arrow After Show think that's coming, eventually. Until then, they enjoyed the way Curtis got to play a major role in the fight against Brie Larvan.
Finding the Bunker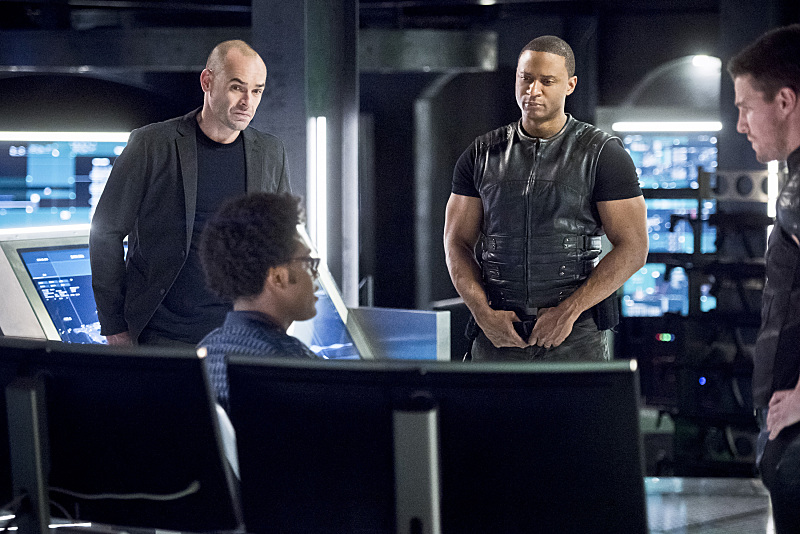 Despite a serious cold and the concern of his husband, Holt snapped into action in "Beacon of Hope" after seeing his good friend/boss Felicity Smoak in trouble. The phone he was given earlier in the season, combined with his smarts, allowed him to figure out where the elevator to the Bunker (something this writer affectionately calls Arrow Lair 3.0, since the team's previous two bases were compromised).
And then he just sort of … walked right in.
During the latest Arrow After Show, host Adam Kruger thought he found the team's HQ "way too easily," with Olivia De Bortoli adding that he "literally walked right into it." Adam theorized that maybe the phone just worked as sort of a magic key to open the elevator and provide access to the Bunker, but the security for Team Arrow is clearly not too tight.
The third member of this week's hosting crew, Jack Hind, noted that there's also a "revolving door" at S.T.A.R. Labs on The Flash. It's actually even worse there, because Cisco Ramon and Caitlin Snow made a point of touting the increased security in Season 2, and it hasn't worked out that way at all. In the Arrowverse, there's really no such thing as a "secret" hideout.
Where Everybody Knows Your Name
(Kids, please Google it if you don't get the reference.)
Once he found his way in, Holt got to learn exactly who was who in a heartbeat since all the heroes were standing around unmasked. Actor Echo Kellum played it like Curtis was a kid in a candy store (until he fainted), even if he slightly dissed Diggle by not remembering who he was.
And wouldn't we all be that way if we got a chance to chill with Team Arrow? Jack certainly thought so:
This is the best reveal so far. We've seen Barry [Allen, from The Flash] reveal himself constantly; it's dire. Every time he does it, it's an absolute joke, and it drives me insane. We've seen Oliver do it, and it's kind of okay. You know that he's doing it for the best of reasons … But this one was on point. Everything about it was genius.
Olivia agreed with Jack, saying that more people would probably be starstruck in a similar situation:
Nobody ever reacts that way. I feel like everyone is just like, "Oh, okay," and moves on with their lives. I'd be like, "What?!?"
And maybe pass out. From the fever, mind you.
Replacing Felicity?
It wasn't all fun and games for Curtis, who earned Oliver's wrath for not taking the superhero game seriously enough (he later apologized after being chastised by Laurel Lance). After a close call with one of Brie's mechanical bees, he told his husband at the end of "Beacon of Hope" that this was one-time deal.
No one really believes that, though, nor do most fans think he'll become "Overwatch, Part 2," as Jack put it. What people are waiting for is for Curtis to seize the legacy of Michael Holt, the most famous Mister Terrific from DC Comics who is pictured above. He's got the training and the T-Spheres — even if they have a tendency to explode right now — but will he don the Fair Play jacket and help Team Arrow in the field, possibly after Felicity returns to her familiar role?
Stay tuned.
Be sure to watch this this week's entire episode to hear the hosts and viewers sound off on the silliness of Brie's bees, whether Laurel is finally coming into her own, whether the person in the grave will soon be revealed and much more.
Will Curtis get to become Mister Terrific in earnest before the end of Season 4? Will the writers eventually run out of "terrific" puns to use before he does? Should the hosts have tried harder to keep their Green Arrow masks on during this week's show? Let them know about all of the above by using the hashtag #ArrowAfterShow or leaving a comment below.
Join Adam Kruger, Jack Hind, Carolina Bonetti and Olivia De Bortoli every week, live and on demand, for review and conversation about each new episode of Arrow! Tweet in questions or comments to the hosts all week using the hashtag #ArrowAfterShow
Follow theStream.tv on Twitter @theStreamtv and our hosts:
Adam Kruger – @TheAdamKruger
Olivia De Bortoli – @oliviadebortoli
Jack Hind – @JackHind
Carolina Bonetti – @CarolinaBonetti
theStream.tv Fan Show Network Presents the Arrow After Show! Tune in each week, live or on demand, for review and conversation about the hit CW series, Arrow. Behind this hit series are writers & producers Greg Berlanti, Marc Guggenheim and Andrew Kreisberg. Arrow is based on the DC Comics character Green Arrow. The series follows billionaire playboy Oliver Queen, portrayed by Stephen Amell, who, after five years of being stranded on a hostile island, returns home to fight crime and corruption as a secret vigilante whose weapon of choice is a bow and arrow. During Season 2 of Arrow, CW introduced DC Comic Superhero Barry Allen on the show before launching its own stand-alone series, The Flash. Throughout the last few seasons, audiences have seen popular DC Comic super villains and superheroes come to life including: Deathstroke, Deadshot, China White, The Huntress, Black Canary, and Merlyn. Arrow and The Flash will feature multiple crossover episodes connecting the DC Television Universe on the CW. If you love everything DC Television Universe then you don't want to miss the after show live every Wednesday night!
SUBSCRIBE TO theStream.tv
http://www.youtube.com/subscription_c…
LIKE US ON FACEBOOK
http://www.thestream.tv/facebook
FOLLOW US ON TWITTER
Tweets by thestreamtv
FOLLOW US ON INSTAGRAM
https://instagram.com/thestreamtv/