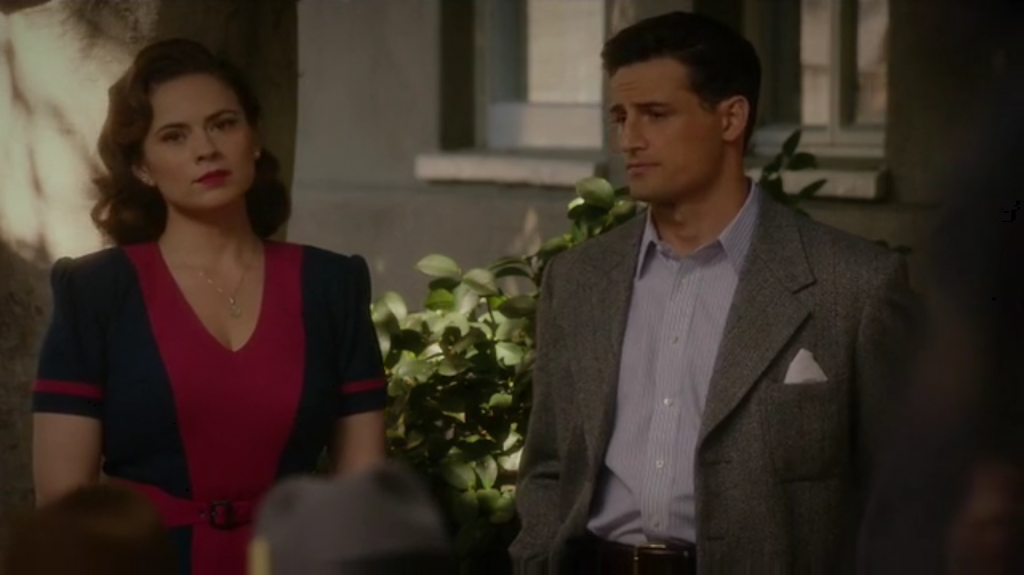 Forgive me for the impending long-winded introduction.  I wanted to give people who are not well-versed in the craft of storytelling and screenwriting a quick primer.  After that, we'll get into why the Agent Carter episodes "Life of the Party" and "Monsters" were, in my opinion, so well-executed.
For those not familiar with the dredges of Act-Two of a story, let me sum it up in one short blunt statement from a screenwriter: "Act-Two is the place where screenplays go to die."  What does that mean?  It means that Act-Two is the meat of a story, and most stories fall apart in that protein-filled section.  Stories sometimes start strong with a great inciting incident and strong movement into Act-Two, but the conflicts and character arcing aren't enough to hold up that big middle section.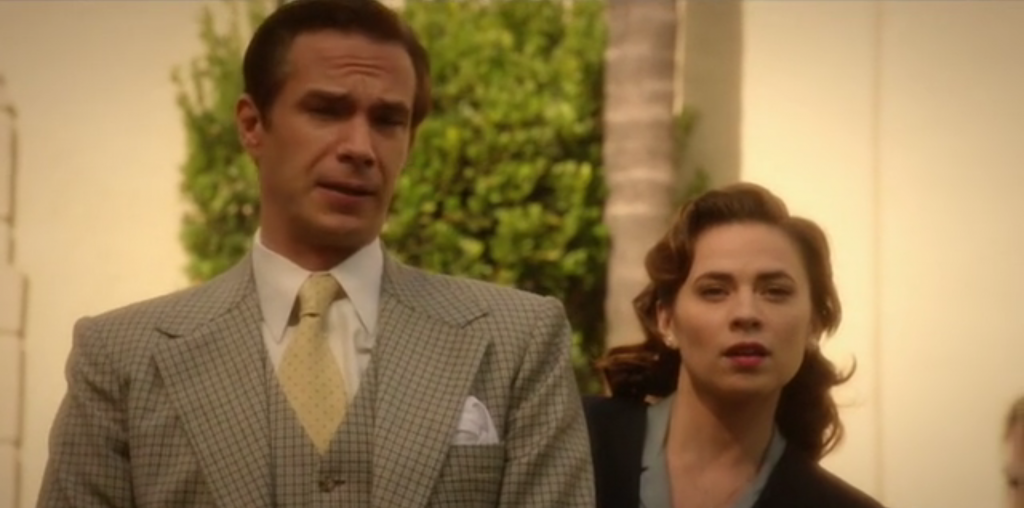 Movies use a 1:2:1 ratio to structure their stories — Act-One will usually be 30 minutes, Act-Two 60 minutes, and Act-Three 30 minutes.  Do you see the problem?  It's easy to start something.  And finishing things up is fine and dandy when all you're doing is dealing with a final battle and wrapping up character interactions along with a denouement.  Act-Two is the intimidating long-stretch of barren wasteland where a writer must fill in enough action and story to keep the interest of the audience, in addition to keeping a focus on the plot and goal.  That means conflict, conflict, conflict.  You can use whatever metaphor you want: two-steps-forward-one-step-back, sitting backwards in a forward-moving train, etc.  The moral of the story: your hero must make progress, but the progress can't come easy.
And that sweet spot is exactly where Agent Carter's latest two episodes have shined so brightly.  It seems that the payoff for this series revealed itself last night.  Criticisms of the show's sophomore season were that each episode seemed to go nowhere and events were unraveling much too slowly.  The episode "Smoke & Mirrors" was divisive to say the least.  What was the purpose of this one-off episode that didn't even have Peggy Carter making progress?  Who really cares about Whitney Frost?  She's just the bad guy.  After "Life of the Party", audiences can now see the payoff and why the season began at such a snail's pace.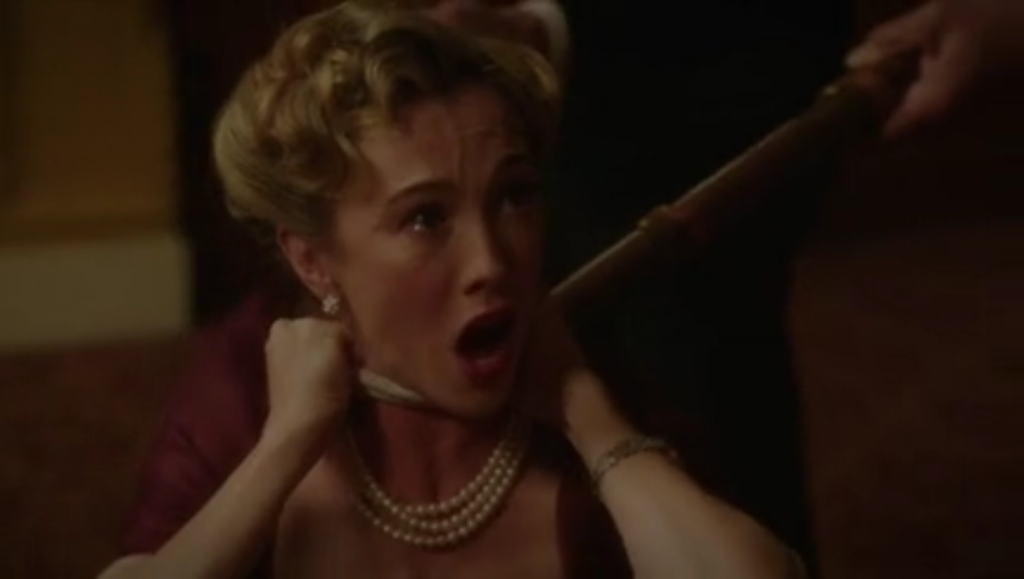 Without the flashback to Whitney's childhood, we wouldn't have appreciated her triumph in "Life of the Party."  Creating the foundation of a sympathetic villain, the audience rooted for her when she struck back at her double-crossing husband and his cronies.  The scene of her being visualized as only a potential object to be used in the attainment of power made us see Whitney not as a villain getting what she deserved, but as the little girl who, most of her life, was stepped on and ridiculed.  This change in direction and her own acquisition of power made a great turning point for Act-Two.  Definitely a smart move by the writers of the series.
"Monsters" was no less impressive.  Ending on a low point for our protagonists on all fronts — Daniel losing his leadership position at the SSR; Jason being kidnapped; Ana being shot and critically wounded; and Peggy being discredited — the audience experienced the hallmark of all great Act-Two conclusions: everything goes wrong … a.k.a. the perfect Act-Two ending!  The only place our heroes can go is up.  And that is what the rest of this short season will be dedicated to.
If we took the cumulative number of Agent Carter episodes — which numbers to 10 — this season and applied the 1:2:1 ratio of movies, we can see an almost perfect structure: Act-One is composed of Episodes 1 through 3; Act-Two is composed of Episodes 4 through 7; and Act-Three will be composed of Episodes 8 through 10.  Also remember that the transitions between acts means that the latter half of Episode 3 was actually the start of Act-Two.  And from the ending of "Monsters", it will take at least the initial half of Episode 8 to transition into Act-Three (our heroes need some time to pick up the pieces).  So in reality, the seasonal ratio for Agent Carter would be "2.5 episodes to 5 episodes to 2.5 episodes", which reduces to 1:2:1.  A perfect screenplay ratio!
Agent Carter's overall seasonal structure is that of a massive 400-minute movie (a number derived from adding up all ten episode runtimes sans their commercial breaks, which is 40 minutes per episode).  Each episode may not have a specific Three-Act structure because they themselves are already atomic pieces in a larger picture.  Agent Carter is, therefore, unique when compared to other serialized shows.  It concentrates on a large story arc which compounds the payoff.  This is why Agent Carter is aptly categorized as a property belonging to the Marvel Cinematic Universe — and not just because the show has characters that play in the same universe as its bigger budgeted siblings in theaters, but its format and nature are undeniably rooted in film and cinematic-style storytelling.
Make sure to visit Christina Roberts for her written recaps of "Life of the Party" and "Monsters" at Bam Smack Pow.
FOLLOW ME ON TWITTER:
@slamofsteel
FRIEND ME ON FACEBOOK:
Steve Lam (Slam of Steel)
Join Bryan Scheidler, L. Stephanie Tait and Steve Tenney every week, live and on demand, for review and conversation about each new episode of Agent Carter. Tweet in questions or comments to the hosts all week using the hashtag #AgentCarterAS
Don't forget to follow @thestreamtv and the after show hosts on Twitter!
Bryan Scheidler – @GoodNerdBadNerd
L. Stephanie Tait – @QueendomofMab
Steve Tenney – @TenStephens
theStream.tv Fan Show Network presents Marvel's Agent Carter After Show! Tune in each week, live and on demand, for review and conversation about ABC reality television show. Marvel's Agent Carter, or simply Agent Carter, is an upcoming American television series created for ABC by Christopher Markus and Stephen McFeely, inspired by the films Captain America: The First Avenger and Captain America: The Winter Soldier, and the Marvel One-Shot short film of the same name. It is set in the Marvel Cinematic Universe (MCU), sharing continuity with the films of the franchise.
The series features the Marvel Comics character Peggy Carter, with Hayley Atwell reprising her role from the film series, as she must balance doing administrative work and going on secret missions for Howard Stark while trying to navigate life as a single woman in 1940s America. Several characters from Marvel Cinematic Universe films appear throughout the series. It is produced by ABC Studios and Marvel Television, with Tara Butters, Michele Fazekas, and Chris Dingess serving as showrunners.
SUBSCRIBE TO theStream.tv
http://www.youtube.com/subscription_center?add_user=thestreamtv
LIKE US ON FACEBOOK
http://www.thestream.tv/facebook
FOLLOW US ON TWITTER
Tweets by thestreamtv
FOLLOW US ON INSTAGRAM
https://instagram.com/thestreamtv/