A bunch of good game but I don't care because THE TWINS ARE HERE! :-)
Live nights are always the best! I love an eviction and a new HOH!! FUN FUN FUN!
Episode starts with Austin saying that getting Jason up was a Check for the "good guys" that's such a random thing for Austin to say. There's no 'bad guys"? Just different. Moving on.
Vanessa's 8 person alliance she had started….you know Dark Moon..continue to be pissed and confused! I guess she really thought there was no chance that Clay and Becky would lose that BOB and now she's lost that bet and it hurts..sometimes the for sure bet, loses and you go down hard! She literally lost with pocket Ace's!
Jason is fighting hard and as good as he can to stay in this game…I mean there is no way that anyone can say that he gave up, didn't give it the absolute best shot!! Because he did! Way to go out!  I'd like him more if he wasn't a chain smoker, I just can't handle smokers and don't want them as role models but otherwise I really liked him.
I love the Johnny Mac segment, it's fun to see his office, family, and even a patient testimonial to prove that he is responsible. Okay I guess we'll believe you but he's having a GREAT TIME playing the character that he's playing!!! That is for sure!!
Jason is voted out 7 to 2
Shelli reveals the Sixth Sense Alliance to Jason in her exit video to him.
So excited the TWINS are here, the TWINS ARE HERE!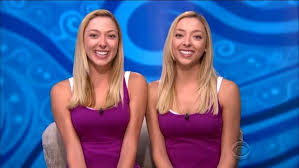 I'm so excited! I think I like Julia more, but I get them mixed up..so now that they're both in there together I can really figure it out.
The Twin Twist is over, Battle of the Block twist is over, there's only 1 HOH per week..we're at just a basic game of Big Brother..interesting…I'm looking forward to how they handle the transition, it really changes a lot! I wonder if they're going to add some new twists or bring back the #BBTakeover…I know I should just forget about the BB Takeover I just don't want to.
Finally an endurance comp!! They're hanging on a wall being rained on heavily…stuffed eagles that punch them in the gut/chest!! I'd guess this is a good comp for Becky or clay..def not James!!!
Our Big Brother 17 After Show will be live TOMORROW at 11am PST TheStreamTV #BB17AS Be sure and send us questions or comments on the youtube channel chat or on twitter with #BB17AS We WILL be showing and discussing a couple of tweets LIVE!! http://bit.ly/1Ibj7uw
xoxo, Jen