It's a sad week for me and my favorite couple…Clay goes home :(
This is my least favorite week of the season. Clay and Shelli were up on the block all week..James got HOHitus (where he became a mighty and all knowing..yet knew very little actual information.)  Meg made herself look like a hoe..throwing herself all over Clay when he's clearly taken. I mean really why is Big Brother highlighting that, it's kind of rude that they'd have to keep airing it to make it a big deal for us viewers
The POV comp was fun and had a lot of good and bad outcomes. I am so glad that I just had a red unitard, I couldn't imagine having to wear all that armor for a whole week! James gave up a trip to Ireland and $5000 to keep the nominations the same! It wasn't that important to get one of them out! Austin and Liz and Julia are 3, yes 3 people! They are a much bigger threat to the house! I guess I'm just biased because I like Shelli and Clay and thought they were playing a good game together and James ruined it. Oh well. I can't believe that Shelli and Clay waited 6 weeks to have their #FirstKiss! It was really cute. I think they'll have a chance out side the house. I jenuinely think they are stronger then the couples that have lasted for the long haul so why not? People say because of their age difference, whatever with that!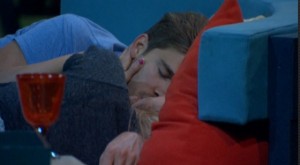 Oh Jackie..she's questioning Vanessa's game NOW! I really wish she could have figured that out before Shelli and Clay were stuck on the block! I really thought this was Vanessa's week to go!
The Hitman sequence was longer then it needed to be, nothing was really learned..Derek likes James and Johnny Mac…and then in the middle of that they show Meg acting like a hoe AGAIN! Why Big Brother?
Well somehow the vote became a 9-0 vote for Clay to go home…very strange after watching the show. I can't believe Meg was able to vote for Clay to go home, from how they were making her out to be, it seemed like she was waiting for Shelli to go home so she could have her chance..I guess something went down and we are all unaware of what it was for now.
Shelli is now in this game for herself. So sad, Clay's not even in the Jury! 🙁 From his exit interview with Julie the librarian Clay seems so loving and just like the quality guy we all already thought he was. I think that's why I like Shelli and Clay so much, they are the most real, nice, smart, jenuine people..and those are qualities that don't normally make it into the Big Brother house…especially not a cute couple.  Clay confirms that scampering Meg…has had her fair share of showmances around the house..with everyone..why don't they show that?
This is that painful HOH for most of the houseguests…falls falls falls as they slide down lanes with covered in crisco…I'd think Shelli and Becky have good shots at winning this one. Shelli is the one who just lost her loved one and Becky is athletic…I guess we will see. I think I'd dominate in this comp..since I have awesome catlike reflexes. I guess we'll find out SUNDAY!
There's so much more to talk about on our Big Brother 17 After Show will be live TOMORROW at 11am PST TheStreamTV #BB17AS Be sure and send us questions or comments on the youtube channel chat or on twitter with #BB17AS We WILL be showing and discussing a couple of tweets LIVE!! 
xoxo, Jen